Oriental Mart's Recipe of the Month: Budae Jjigae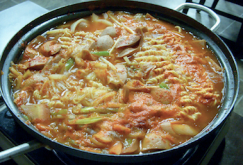 Press Release (ePRNews.com) - NOTTINGHAM, England - Feb 27, 2017 - Discover our Recipe of the Month. An unlikely meeting of two cuisine cultures, bringing great culinary joy that can be shared and enjoyed around the world!
Budae Jjigae, also known as Army Base Stew, was invented during the Korean War. Food was insufficient at that time, and as such, South Korea and the Korean people mainly relied on the supplies from U.S. military.
Canned spam, baked beans and sausages were the common foods provided by the U.S. and these foods were new to Korean's at that period. They combined their traditional spicy soup and those canned foods together, and called it Budae Jjigae.
Budae Jjigae is one of the best dishes to share the undeniable yumminess with friends and family. It makes you feel warm on those colder days. And more importantly, this dish is very easy to make and tastes delicious!
Just a few simple steps and one hour to cook, this dish is most certainly worth a go!
Here's how to make our Army Base Stew (Budae Jjigae) Recipe
prep time cook time total time
15 mins 60 mins 75 mins
Ingredients (Serves 4)
For the stock:
· 2 dried shiitake mushrooms.
· 8 large headless dried anchovies.
· Dried kelp (a 5 x 6-inch sheet).
· 8 cups water.
· 1 teaspoon salt.
For the seasoning paste:
· 8 garlic cloves, minced.
· 1 tablespoon hot pepper paste.
· 1 tablespoon hot pepper flakes.
· 1 teaspoon soy sauce.
· 1 teaspoon sugar.
· 1½ tablespoons water.
For the stew:
· 400g pork belly, cut into bite size pieces.
· 50g of sweet potato glass noodles, soaked in water for 30 minutes and drained.
· 1 cup worth cabbage, cut into bite size pieces.
· Half of a medium onion, sliced.
· 2 green onions, cut into 1 inch pieces.
· ½ cup fermented kimchi, chopped.
· 150g of spam, sliced thinly.
· 150g of Polish sausage, sliced.
· 1 pack of Shin Ramyun.
· ½ cup worth soft tofu, sliced.
· 20-25 sliced rice cakes.
· 1 slice of American cheese (optional).
Method
Prepare stock:
1. Put anchovies, kelp, mushrooms and water into a large pot. Cover the pot and cook for 30 minutes over medium high heat. Add the pork belly and cook for another 10 minutes.
2. Remove the pot from the heat. Take out the anchovies, kelp and mushrooms. Cut the mushrooms into small slices.
3. Remove the mixture of the stock and the pork from the pot and put the pork into a small bowl. You will get about 6 cups of stock. Add a pinch of salt and stir until dissolved.
Make seasoning paste:
1. Combine the seasoning paste ingredients by mixing thoroughly (garlic, hot pepper paste, hot pepper flakes, soy sauce, sugar, and water in a bowl).
Arrange the ingredients in a shallow pot (10 to 12 inches):
1. Place the cabbage, onion, pork, and the mushrooms in the bottom of the pot.
2. Put the kimchi and the seasoning paste over top.
3. Place the spam, sausage, rice cake, tofu, cheese, ramyun and the sweet potato starch noodles in nicely.
4. Put green onion on top and add three cups of stock.
Cook and serve:
1. Cook over medium-high heat. (The traditional Korean style is to cook at the table with a portable burner). Family and friends will be sitting around the table and sharing the pot.
2. You pick any food you want from the pot with your chopsticks.
3. If you do not have a table top burner, you can cook it on the stove away from the table and serve the whole pot on the table.
4. When it starts boiling about 10 minutes later, stir and turn the ingredients over with tongs to cook evenly and it is ready to serve. Why not enjoy with some Korean alcohol (https://www.orientalmart.co.uk/korean-products/alcohol).
Image: LWYang (https://www.flickr.com/photos/lwy/) under Creative Commons.
Source :
Oriental Mart

Business Info :
Oriental Mart
England