PAPERbasket seeks K-12 districts for "Inspect What You Respect" Grant
Announcing a new patent-pending user analytics software that tracks when users are active and inactive with education applications and digital content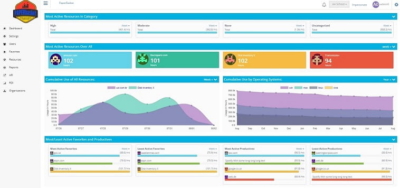 Press Release (ePRNews.com) - AUSTIN, Texas - Aug 04, 2017 - With K-12 schools now spending in excess of $3B annually on subscriptions for applications, learning platforms and digital content, school district leaders still remain unable to determine if the resources purchased deliver fidelity, or are ever really used at all. Developed by a team of edtech industry veterans, PAPERbasket's new user analytics solution offers a brand new patent-pending method of distinguishing active versus inactive use, providing more objective and accurate data than any tool on the market. Starting today, the company is accepting applications from U.S. school districts interesting in taking part in PAPERbasket's "Inspect What You Respect" grant, and being among the first to test the solution for greater efficacy in edtech.
"U.S. schools spend over $11B annually in instructional materials, more than 50% reported being in digital formats," said PAPERbasket President Mark Onderko. "Between content, LMS tools, software and subscription platforms, the typical school system spends $75 to as much as $150 annually per student on dozens to hundreds of subscription-based tools across their district. But how much of that is wasted?" Even beyond dollars, Onderko emphasized that tracking for fidelity and learning outcomes is an even greater challenge for schools, as a recent state study (http://le.utah.gov/interim/2015/pdf/00004617.pdf) found that 87% of schools did not meet fidelity requirements for their software results in the 2014-15 school yea​r. ​
Educational organizations suggest as much as 65% of subscriptions are never activated or have zero usage. That same study found that only 5% of subscriptions met the identified usage goal. This study will help schools determine how much of their budgets for digital resources are actually being used, giving them objective data to reduce costs.
"Is it because the resources aren't relevant? Is it because professional development and change management has been lacking? Without accurate usage data, schools will never know," Onderko added. "Not only will PAPERbasket help ensure schools adopt digital learning more effectively, but by simply identifying the bottom 10-25% of resources being underused by students, that equates to real savings where the district can take immediate action."
PAPERbasket differs greatly from other accountability tools that have been introduced in recent years. Unique to PAPERbasket is its method of distinguishing "​active versus inactive use". While some other companies may measure hits or cumulative time logged into a system, neither of those models tell the full story. If a student logs into a system, only to minimize the screen and watch videos for the next hour, the current products in market have no means of identifying that behavior. PAPERbasket TRACK's patent-pending technology distinguishes active versus inactive time, so school district leadership knows the difference when a student is actually using a resource, or it's simply running idle in the background.
​​
"Even the most effective learning resource is useless if students aren't actually using it," says Kathy Hurley, former SVP of Pearson Education and currently CEO of Girls Going Global and a Board of Advisor to PAPERbasket. "PAPERbasket solves the missing link to give real, accurate data to know when and if resources are being used."
​​
PAPERbasket REPORT also offers a wealth of analysis that sets it apart from existing companies. With it, schools can compare use across different digital resources, operating systems and schools. Officials can also run a unique "Return on Education" report, measur​ing​ the adoption rate of a particular application and see ​a projected dollar value for the actual payback of active usage. Additionally, PAPERbasket CONNECT allows the data to integrate with existing data-driven platforms, giving you access to new sources of data, through open API standards.
Starting today, up to thirty school districts nationwide will have the opportunity to pilot this new solution through the​ir Inspect what you Respect grant program. These districts will have the opportunity to adopt the system across all of their devices district-wide for the 2017-2018 school year at no charge, a cumulative donation of over $1 million. Districts will be able to reduce subscription costs for applications and digital content on average 20-30% or more with the findings, as well as more accurately measure adoption and fidelity of their edtech investments. Authorized officials can reach out to apply to be part of the 2017-2018 grant by downloading an application at https://paperbasket.com/about-us/grant/. Applications will be reviewed on a rolling basis from today until September 30, 2017.
About PAPERbasket
PAPERbasket's mission is simple. We help educators maximize the return on their edtech spend. Every dollar matters and the tools help school officials identify ways where purchases are and are NOT giving the desired return. It collects objective and accurate information to every web site and application used by all stakeholders, and presents data in simple reporting dashboard. The patent-pending solution is the only solution on the market capable of distinguishing active vs. inactive use, providing more accurate decision-making data. Founded and led by industry veterans with a cumulative history of over 250 years in edtech alone, the company's privacy policies were reviewed and approved by the Student Privacy Pledge. To learn more about PAPERbasket, visit www.paperbasket.com and follow us on Twitter @PAPERbasketEDU.
Source :
PAPERbasket