Patrick D. McCoy named Organist/Choirmaster at St. John's Episcopal Church, Beltsville, Maryland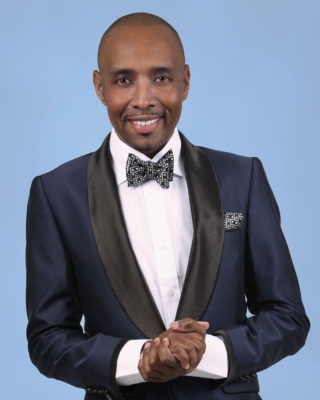 Press Release (ePRNews.com) - WASHINGTON - Feb 23, 2017 - Patrick D. McCoy was recently named Organist/Choirmaster at Saint John's Episcopal Church (Zion Parish) in Beltsville, Maryland where he will be at the helm of the church's music program. He will serve in ministry with Father Joseph M. Constant, the church's current rector. Sunday, February 26, 2017 will be McCoy's first Sunday leading the choir and accompanying at the organ.
He dedicates this latest accomplishment to the glory of God, in loving memory of his mother, Velma Ann McCoy Pulley, who departed this life on January 11, 2017 and knew of this next move prior to her passing.
Patrick D. McCoy distinguishes himself as an organist, choral conductor, singer and music journalist residing in the Washington, D. C. area. A native of Petersburg, VA, he is the son of the late Velma Ann McCoy Pulley and Alex R. Pulley. A 1995 graduate of Petersburg High School, he earned the Bachelor of Music in vocal performance from Virginia State University (2000) where he studied voice with the late Martin A. Strother, sang in the University Concert Choir under the direction Johnnella L. Edmonds and Opera Workshop with Lisa Edwards-Burrs. Other important childhood mentors that inspired him to pursue a career in music include James F. Peak, Jr., his high school teacher Donna R. Lundy, Mattie L. Wilkerson and Tom E. Lovorn, among others.
Shortly after graduation from VSU, he served as Director of Music and Organist at Covenant Presbyterian Church from 2000-2006, early service musician at The Evangelical Lutheran Church of Our Redeemer from 1998-2002 and First Christian Church from 2003-2005. In Washington, Patrick served as Minister of Music at Takoma Park Baptist Church from 2006-2012 and most recently as organist/choirmaster from 2012-2016 at Trinity Episcopal Church. His interest in music was sparked by his late mother Velma Ann McCoy Pulley (July 25, 1956-January 11, 2017), who sang in the church choir and with whom he practiced and coached many of the songs she sang. He dedicates his life's work and career to the Glory of God and to her memory.
In 2005, he earned the Master of Music in Church music from Shenandoah University where he studied with Metropolitan Opera tenor Michael O. Forest and organ/sacred music with Dr. Steven Cooksey. Juxtaposing a busy schedule between writing and public appearances, he has covered the arts for several outlets, including Washington Life Magazine, Early Music America, The Afro American Newspaper, CBS Washington, Examiner.com and ArtSong Update. As a noted performing arts journalist he has interviewed outstanding artists, including soprano Renee Fleming, violinist Joshua Bell, actress Audra McDonald, mezzo-soprano Denyce Graves, conductors J. Reilly Lewis, Stanley J. Thurston, Norman Scribner, Julian Wachner, Emil de Cou, Andre J. Thomas, Rene Clausen and Michael Tilson Thomas and Kennedy Center President Deborah Rutter, among others. Notable appearances include presenting at the 2012 African American Artsong Alliance Conference at the University of California at Irvine, Moderator: Mendelssohn Elijah Panel at The Kennedy Center, Moderator: Symposium Series at the 2014 Colour of Music Festival and Moderator: Blacks in Classical Music Panel hosted by the Coalition of African Americans in the Performing Arts and the National Medal Arts Ceremony at The White House. As an educator, Patrick taught music in the Petersburg Public School System from 2000-2003 and Prince George's County from 2006-2008. A vocal soloist, he was presented in a full recital by the Nu Lambda Chapter of Alpha Phi Alpha Fraternity, Inc, at Christ and Grace Episcopal Church in Petersburg.
In 2015 he appeared on Washington's NBC 4 as a judge for "Be A Voice" a local installment for the hit talent TV show, The Voice. At Washington National Cathedral (2016) Patrick served as conductor of the Diocesan Wide Choir in a special Festival Eucharist commemorating the life of Absalom Jones.
He was named among the Forty Under 40 of Prince George's County, MD for his contributions to the arts and humanities in 2013 and the 2014 Board Member of the Year for the Coalition for African Americans in the Performing Arts. He is a member of the Music Critics Association of North America, Shenandoah University Alumni Board of Directors, National Association of Negro Musicians, Inc. and Alpha Phi Alpha Fraternity, Inc.
McCoy will be formally installed as Organist/Choirmaster on Sunday, March 19, 2017 at the 10:00 a.m. service. The church is located at 11040 Baltimore Ave., Beltsville, MD 20704.
For more information about St. John's, visit http://saintjohnsbeltsville.org
Source :
HKS PR Arts

Business Info :
HKS PR ARTS
United States