Permanent Lip Blush: Benefits, Aftercare, and More
Cosmetic beauty procedures have become popular as people increasingly become conscious of their faces and bodies.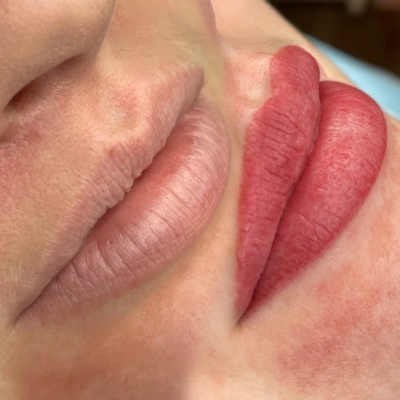 One such procedure that's emerging in popularity is permanent lip blush. Permanent lip blush has the power to enhance the look and appearance of your lips through tattooing. If you're considering getting this procedure done but are wondering what a permanent lip tattoo is, what its benefits are, and its aftercare, read this blog!
What is a permanent lip blush?

Lip blushing is a semi-permanent tattoo to rejuvenate the color of the lip border and give the impression of fuller lips.
It is common for women to lose pigment in their lips and lip lines as they age. To hide this or make their lips appear soft and fuller, women use a lip liner that makes their lips look slightly bigger. However, going for a permanent lip blush can give a more natural look and provide the illusion of fuller lips.
What is the procedure for permanent lip blush treatment?

The Permanent Lip Blush procedure involves depositing pigment into the upper layers of the skin to create a soft, natural-looking tint. If you're interested in becoming a skilled technician in this field, consider enrolling in cosmetic tattoo courses. The steps followed during permanent lip blush treatment are:
1. Consultation: Before the procedure, you will have a consultation with a trained and experienced technician. During this consultation, you can discuss your desired lip color and any concerns you may have.
2. Numbing: A topical numbing cream is applied to ensure as painless an experience as possible.
3. Pigment Application: The technician uses a specialized tool to deposit pigment into the lips. Multiple layers may be applied to achieve the desired color and shape.
4. Healing: After the procedure, your lips may appear swollen, and the color may be more intense than the final result. Over the next few days and weeks, the color will fade slightly and settle into its permanent shade.
What are the benefits of permanent lip blush?
Benefits of permanent lip blush include:
1. Enhanced Natural Beauty: Permanent Lip Blush is designed to enhance the natural beauty of your lips. It can add color, definition, and fullness, making your lips appear more youthful and vibrant.
2. Time-Saving: One of the significant advantages of permanent lip blush is the time it saves in your daily makeup routine. You no longer need to apply lip liner or lipstick, as your lips will already have a flattering color.
3. Long-Lasting: Although it's called "permanent," it's a semi-permanent tattoo that typically lasts for 1-3 years, depending on various factors such as your skin type and aftercare. However, for 1-3 years you can enjoy beautiful lips for an extended period.
4. Customization: Permanent lip blush is a customizable procedure according to your satisfaction. You can choose the color and intensity that suit your skin tone and personal style.
5. Boosts Confidence: Many individuals who undergo permanent lip whitening report increased self-confidence. Knowing that your lips look their best at all times can provide a significant self-esteem boost.
What are the post-treatment effects?

Expect your lips to be swollen by the end of the first day after the treatment. However, it usually causes mild to moderate swelling, which is completely normal.
For the next 3–4 days, your lips will start to flake and peel. During this stage, scabs begin to form to recover from needle-induced wounds. It is advised not to peel off the scabs, as it can fade the pigment achieved from lip blush. Make them fall off naturally, and remember to keep your lips hydrated with a gentle moisturizer.
After around 5–6 days of treatment, the color of your almost healed lips is likely to become 30–50 percent lighter compared to what you got just after the procedure. Gradually, the skin would repair itself after around 4-6 weeks, and then the color would settle and return to your ideal lip pigment shade.
What are the aftercare tips?

Proper aftercare is crucial for a successful permanent lip blush outcome. Some essential aftercare tips:
1. For the first few days, avoid getting your lips wet. Avoiding water-based activities like swimming, saunas, or hot showers
2. Use a recommended lip balm to keep your lips moisturized, especially during the initial healing phase.
3. Protect your lips from direct sunlight and tanning beds, as UV rays can cause pigments to fade more quickly.
4. Let any scabs or peeling skin naturally slough off. Picking at them can affect the final result.
5. Your technician will provide specific aftercare instructions. Follow them diligently to ensure the best possible outcome.
Become a certified beautician conducting these satisfying treatments by enrolling in the best cosmetic tattoo training in Australia.
Conclusion

Permanent lip blush is a fantastic option for those looking to enhance their natural beauty with minimal daily effort. With proper aftercare and realistic expectations, you can enjoy the benefits of this semi-permanent cosmetic procedure and embrace your beautiful, youthful lips for years to come. If you're considering permanent lip blush, consult with a reputable technician who is certified by completing a permanent makeup course to discuss your options and embark on this transformative journey.
Source :
Permanently Beautiful