PIMSY EHR partners with SayIt® from nVoq for mental / behavioral health speech-to-text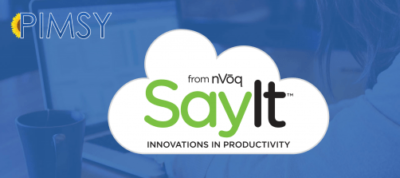 Press Release (ePRNews.com) - WAYNESVILLE, N.C. - May 25, 2017 - PIMSY is excited to officially announce their marketing partnership with SayIt® from nVoq! SayIt is a cloud-based healthcare speech recognition solution that converts speech to text in seconds, making clinical documentation easier. Use the power of your voice to dictate notes and automate keystrokes, increasing the efficiency, flexibility and mobility of your practice.
PIMSY is comprehensive, flexible and affordable EHR and practice management software for mental / behavioral health care. Completely HIPAA-compliant, PIMSY helps keep your client and practice data safe in the cloud.
PIMSY is a privately held software company based in Waynesville, North Carolina and was founded in 2007 by lead developer Ian MacDonald. PIMSY is comprehensive, flexible and affordable practice management solution for behavioral health care providers.
With PIMSY, everything is integrated into one streamlined system: calendar + scheduling, session notes, electronic billing, remittance, reporting, appointment reminders, and much more. It offers competitive pricing and customer service that is prompt, professional and responsive.
PIMSY saves time, reduces cost, and increases efficiency, allowing you to be more efficient and effective as a clinician.
"I literally created PIMSY based on the feedback of clinicians in the field, and even though the product and company have grown exponentially since their inception, we continue to update PIMSY from direct client feedback. I truly believe that our combination of solid product and exceptional customer service are unique and much-needed in our industry," says CEO Ian MacDonald.
SayIt from nVoq is cloud-based, HIPAA-compliant speech recognition software that allows you to document your session notes two to three times faster and spend more time focused on your patients. SayIt gives providers more flexibility when and where they complete their clinical notes.
nVoq Inc. is a privately held software company based in Boulder, Colorado. nVoq's main product is SayIt, a speech recognition solution designed to improve workflow. nVoq was founded in 2000 by veteran technology entrepreneur Charles Corfield.
SayIt enhances efficiency in completing necessary documentation and offers workflow automation for your standard practice protocols. It provides highly accurate speech recognition software with no voice profile training, and its easy set-up means you can begin dictating within minutes.
"We believe the value delivered in the SayIt cloud-based platform is second to none", said Deborah Gillotti, nVoq VP and CMO of Healthcare. "With SayIt, we can truly make a difference in clinician efficiency, and ultimately, the patient experience."
Together, PIMSY and SayIt have partnered to provide a reliable, affordable and seamless integration of mental health EHR and speech recognition. See more information here: https://pimsyehr.com/pimsy-sayit-from-nvoq?highlight=WyJu…
Contact us for details: 877.334.8512, ext 1 – hello@pimsyehr.com
Source :
Smoky Mountain Information Systems, Inc