Polytex Technologies leads the way with UHF RFID Technology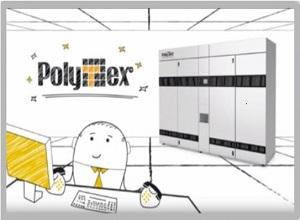 Press Release (ePRNews.com) - TEL AVIV, Israel - Aug 03, 2016 - Polytex Technologies, a successful provider of automated solutions for dispensing, retrieval, and management of textiles in the healthcare, hospitality, and industrial sectors, is pleased to announce an innovative application to support the latest laundry industry trends in UHF Textile distribution solutions.
With hundreds of systems deployed worldwide with LF and HF RFID reading, Polytex provides an ideal solution for Textile Management, and is now available with reading capabilities of UHF RFID tags which are being increasingly used in laundry management (http://www.atlasrfidstore.com/Embeddable_RFID_Wire_Tag_p/wf-sm-cc71h3.htm). UHF has proved to be ideal for Polytex textile management systems because it can both be used to identify and monitor garments dispensed to the users with the added benefit of reading items with maximum accuracy to match its fast dispensing speed.
Organizations can now smoothly integrate Polytex systemsto their current ERP and Software configuration. Polytex provides full IT support and integration into the organization's existing infrastructure. Polytex systems can store over 1,000 items is less than 2m2 and is perfect for protecting the level of hygiene required for best practice operations. Garments are neatly stored inside the system, untouchable to the users and are kept in their original order until dispensed to each user separately, quickly and efficiently. Unlike existing UHF RFID textile management systems which cannot guarantee 100% traceability Polytex is unique in its ability to monitor the number of garments dispensed per user and control textile usage.
"Before Polytex, organizations that might have had to consider implementing UHF Cabinet, lockers or closets for their textile management, have a new option. We are convinced that Polytex provides the best of both worlds: UHF reading tracking, large capacity of garments in a small footprint and high level of hygiene standards "said Tomer Poliner, CEO of Polytex Technologies.
About Polytex Technologies Ltd.
Polytex Technologies Ltd., established in 2003, is a world-leading developer and manufacturer of advanced, easy-to-use systems for folded garment management in hotels, healthcare institutions, fitness centres and manufacturing sites. The patented Polytex system is a fully automated solution for distribution, retrieval and management of folded garments, work-wear, linen, towels and PPE.
For more information, please visit: www.polytex-technologies.com.
Contact Information:
Website: www.polytex-technologies.com
Enail: info@polytex-technologies.com
Tel: +972-4-6333142
Source :
Polytex Technologies