Prince Fans Rejoice! Mothers Favorite Child Featuring CeCe Peniston Release "Purple Funk"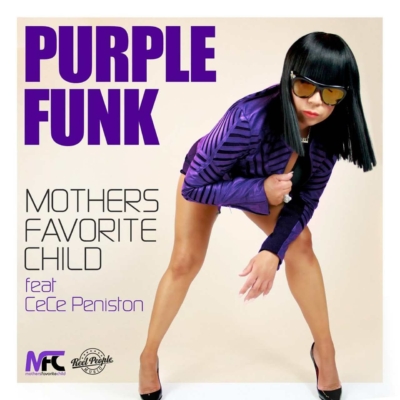 Press Release (ePRNews.com) - WASHINGTON - Jun 08, 2017 - Who loves real music and doesn't miss Prince?  Today is the birthdate of his Purple Majesty… Prince and R&B/Soul Powerhouse Mothers Favorite Child Plans to honor his work in the best of ways – with the release of new, fierce and sexy sounds that will set a dance floor on fire.  Enter their new single "Purple Funk."
Their new single is something remarkably special. "Purple Funk" is a shout out to one of the greatest performers of all time… Prince!  Paris Toon & Mothers Favorite Child featuring CeCe Peniston poured all their love for the musical icon into this new single, which will quickly become a fan favorite.
"This song is dedicated to Prince and my dear friend John Blackwell (Prince's drummer)," commented Toon. "I wrote and produced this song to show where my inspiration for music first came from. I wanted to create something that Prince would give thumbs up on and when John told me he would have loved the track that was all the validation I needed."
If that inspiration was not enough, adding the undisputed "Queen of House Music" CeCe Peniston to the track was the icing on the cake. You can be sure this funky, dance jam is going to be heard everywhere – including the EDM scene that adores CeCe as much as anyone.
The new single features the bonus track "Wish," which offers a heavier edge calling back to the funk of the 70s and includes riveting chords from Kat Dyson (Prince's guitarist). Many will be surprised to see the versatility that CeCe delivers.  "CeCe is an artist's artist and true living legend," says Toon. "Purple Funk will showcase her talent in a phenomenal, new way." With Purple Funk, Paris Toon & Mothers Favorite Child are letting the world know that R&B, Funk and Soul are alive and well in the 21st century.
If Paris Toon & Mothers Favorite Child are anything; comparing them to an elemental force wouldn't be too far of a stretch.  The R&B/Soul super group, brought together by acclaimed visionary producer Paris Toon, Mothers Child is known for blowing fans away during their live performances, as well as, climbing the Billboard charts.
Purple Funk is available for pre-order on iTunes, Amazon and everywhere else great music is sold. For more information be sure to visit https://mothersfavoritechild.com and http://www.cecepeniston.com
Capitol Public Relations LLC is a Public Relations firm based in Washington, D.C. Metro Area servicing corporate, non-profit, entertainment and sports professionals nationwide.  www.capitolpublicrelations.com
Source :
CeCe Peniston