Pro Flow Dynamics Supplies Reliable Camlock Fittings, Tri-Clamp Ball Valves, and Tri-Clover Fittings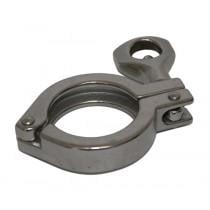 Press Release (ePRNews.com) - Corona, CA - Jun 06, 2017 - Pro Flow Dynamics is a respected supplier of high-quality and well-priced stainless steel ball valves, camlock fittings, tri-clamp fittings and homebrew hardware. The company sells all their products across the US, Mexico, and Canada to various industries including food & beverage, oil & gas, agricultural, municipal, manufacturing, chemical, pharmaceutical and home brew. They have  a comprehensive inventory of their products, and they are a same day service provider. They also provide top-notch customer service where clients complaints and queries are attended to quickly.
The Marketing Manager at Pro Flow Dynamics said, "Our brew hardware was inspired by the original Pro Flow Dynamics stainless steel camlock fittings with home brew in mind. This later evolved into a larger homebrew hardware line which now comprises of 1/2″ stainless steel ball valves, homebrew quick disconnects, tri-clover fittings for brewing, homebrew pumps, a variety of threaded homebrew fittings among other brewing accessories. Camlock quick disconnects are the most common fittings with the tri-clamp fittings being the most popular brewers hardware utilized by commercial brewers. With our specialty of covering stainless brewing hardware, we're  capable of personalizing particular fittings for your brewing store."
When it comes to high quality tri-clamp ball valves, Pro Flow Dynamics tops the chart. Their high-performance tri-clamp ball valves are used in dairy, brewery, food processing, and winery applications. The company offers these sanitary valves in varying versions including tri-clover butterfly valve, tri-clamp ball valve, and tri-clamp pull trigger butterfly valves. These brewery valves are manufactured from high-grade 304 SS and offer a polished finish. They assure reliability, high-performance, and durability. The Marketing Managing added, "We offer our tri clamp fittings at best price that is rare to find in the market especially if the quality is this good. When used in various applications, these tri-clamp fittings offer a safe, secure means to connect any food grade system. A sanitary connection is established by employing two-clover fittings with a gasket in between and a clamp binding them all together. Also known as tri-clover sanitary fittings, they're widely used in wineries, breweries, and dairies."
Customers looking for tri clover fittings can trust Pro Flow Dynamics to provide them with some of the best fittings that will render their applications a success. Their sanitary tri-clamp fittings come in various product options  and are classified as brewing hardware and brew fittings. They offer customized tri-clover fittings for their clients, and  the tri-clamp fittings available in stock include tri-clamp caps, tri-clamp fittings by FNPT, tri-clamp hose barb, and tri-clamp gaskets among others.
About Pro Flow Dynamics
Pro Flow Dynamics is a leading supplier in the US that provides high-quality camlock fittings, brew hardware, stainless steel ball valves and camlock couplings. They offer cost-effective prices and have a comprehensive inventory to choose from ensuring that each client gets an item suitable for their application.
Source :
Pro Flow Dynamics