Product Placement For Every Brand!
The Placement Directory's revolutionary product placement system is matching brands to top studios every day. Don't think product placement is right for your brand? You're wrong.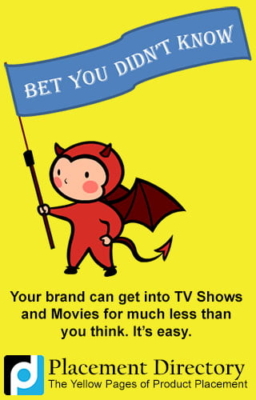 Press Release (ePRNews.com) - LOS ANGELES - Aug 26, 2017 - The Placement Directory Inc., is matching brands, big and small, every day to top studios. How is this done? Well, studios are trying to cut costs for production, and instead of going out and buying all of the items they need for every shoot, they are looking to the Placement Directory to fill those needs with brands. Brands get exposure and prestige of being associated with top TV shows, movies, and other productions, and the studios save money on their production costs.
How does it work? It is simple. As a brand, you sign up for a yearly subscription. You create a "Listing" that includes a description of your brand, images, a video, links to your website and social media, etc. Studios are hand picked and rigorously screened and they have a private and secure login to browse the directory each time they have a shoot and need products. That's it.
For far less than what you might expect, you have a full year to develop your Listing and build relationships with top studios. The studios are on every day scouring for brands, and looking for new ideas to complete their shoots.
http://placementdirectory.com/
Source :
Placement Directory, Inc.