Robot Components Offering High-performance Hydraulic Hammers R1600 at Reasonable Prices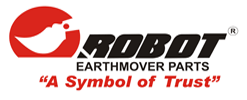 Press Release (ePRNews.com) - Faridabad, India - Aug 11, 2017 - Robot Components, a top rated aftermarket parts manufacturer and supplier, is offering access to high performance yet competitively priced Hydraulic Hammers R1600 in India and abroad.
Robot Components Pvt. Ltd was established in the year 1985 by Mr. N. K Gupta to address the need for O.E.M. quality spare and replacement parts for JCB. Since then, Robot Components continues to hold true to its goal and a dedicated clientele holds true to it. Currently, it is designing, manufacturing and supplying a vast selection of aftermarket parts identical to the quality standards of original equipment manufacturers, including JCB and Hitachi. Given its technical prowess and vast industry experience, the manufacturer can restrict overheads without compromising on quality.
Replying to a query related to Robot Components' product portfolio, one of its executives recently stated, "Robot Components is a name to reckon with. We bring to the table a vast range of aftermarket parts each complying with the original design specifications and established industry quality norms. Our product range comes inclusive of JCB Spare Parts, Backhoe Loader Parts: CASE 580M/580L Parts, Excavator Parts and Rock Breaker Parts. Additionally, we continue to design and deliver the latest products to meet variance in market demands and ensure holistic solutions for our growing clientele."
Robot Components has made headways in the recent years, thanks to a synergy of well-equipped manufacturing facilities, credentialed workforce and a progressive mindset. As of now, the manufacturer has two state-of-the-art production facilities equipped with advanced CNC machines, laboratory and testing facilities, forging, foundry, heat treatment, fabrication and gear cutting. All types of machining facilities are also available. Each production unit is in line with ISO 9001: 2000 norms and environmental compliances. Moreover, Robot Components is well served by a 400 strong workforce sharing its passion for quality and competence.
Offering insight into Hydraulic Hammers R1600 on offer, the executive further stated, "Keeping up with a knack for innovation, Robot Components has recently unleashed Hydraulic Hammers R1600. It is for the first time that the product has been developed indigenously in India. Manifesting our manufacturing capabilities optimally, Hydraulic Hammers R1600 is a feature rich offering delivering on quality and performance. It is sturdy enough to deliver reliable performance for years and works on Hybrid technology for instant energy transmission. Thanks to the internal control valve, the buyer can rest assured of high efficiency at all times."
Robot Components' premium offering incorporates a breaker box guiding system, which comes in handy in reducing noise and vibration. The components are restricted to bare essentiality to keep maintenance expenses on the lower side. The product comes with a centrally operated lubrication system and field replaceable bush to further cut down the maintenance costs and time. Additionally, Hydraulic Hammers R1600 is convenient to handle. The manufacturer tests each rock breaker assembly prior to despatch. The objective is to determine the breaker's actual performance on the ground. Allowing for all budgets, Robot Components, one of the leading JCB Parts Suppliers, offers Hydraulic Hammers R1600 at competitive prices.
About Robot Components Pvt. Ltd:
Robot Components is a manufacturer and supplier of top quality spare parts for Earthmovers. It offers an easy access to JCB Spare Parts, Backhoe Loader Parts, CASE 580M / 580L Parts, Excavator Parts and Rock Breaker Parts. Given its competitive pricing and after sales support, Robot Components has emerged as the leading resource to buy JCB parts online.
Source :
Robot Component Pvt. Ltd.