Robot Components Pvt. Ltd. Offering Top-Notch Rock Breaker At Fair Prices
Robot Components Pvt. Ltd. is quite popular for offering meticulously detailed JCB spare and replacement parts at genuine prices.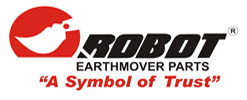 Press Release (ePRNews.com) - Faridabad, India - Mar 12, 2019 - Those who have JCB machines and want to buy quality backed, reliable and meticulously detailed spare parts at affordable prices, one name they all count on is Robot Components Pvt. Ltd. Based out of Faridabad, Haryana, the company is the brainchild of visionary thinker Mr N. K. Gupta and aims to provide each one of its customers with easy access to quality JCB spare and replacement parts. The company has taken immense pride in doing so day in and day out since its inception in the year 1985.
With the intent to make customers familiar with the quality backed JCB spare and replacement parts, the spokesperson of Robot Components Pvt. Ltd. stated, "Ever since we appeared in the industry, we brought in a paradigm shift to the way spare and aftermarket JCB parts were manufactured here in India. Before our advent in the market, there wasn't even a single company in the market that could claim to manufacture JCB spare parts to match the specifications and standards of original ones. Moreover, they were little interested, hardly capable, having any inclination or even control over the end product for that matter."
However, Robot Components Pvt. Ltd. changed the scenario once and forever. It helped JCB owners to overcome the unlikely situation wherein they had to settle down with make do spare parts that were poorly manufactured, low grade in nature and no match to machines they were meant to be used in. This hit JCB owners' interest big time, as their high performance, world-class earth mowing machinery was frequently subjected to equipment mismatch, resulting in poor performance and delays. This aftermarket spare part mismatch also cost them financially in a big way, oftentimes resulting in missing contract deadlines and their credibility was also questioned many times.
Elaborating on the products on offer, the spokesperson further stated, "We are committed to providing JCB owners throughout India with easy access to robust, made to detail and competitively priced spare parts. For this purpose, we have a network of 150 dealerships covering India from North to South. We also keep updating our inventory to ensure that all the products are easily available and have also recently launched two new Hydraulic Hammers, R1600 and RB400. We make genuine efforts, use the best of resources and strive hard in all ways possible to ensure JCB owners get spare parts that are exact matches to the original."
Customers can also reach out to Robot Components Pvt. Ltd. for an indigenously developed hydraulic rock breaker, which is rugged and tough. Built to stand rough use for a long period, the hydraulic rock breaker features hybrid technology, which enables it to transmit energy instantly. Providing optimal efficacy to the rock breaker is an internal control valve and making it less noisy is a breaker box guiding system that also reduces vibration. Therefore, those looking to buy JCB spares and JCB Rock Breaker can count on Robot Components Pvt. Ltd.
About Robot Components Pvt. Ltd:
Faridabad, Haryana-based Robot Components Pvt. Ltd. is one of the leading manufacturers, suppliers and exporters of made to detail, as well as affordably priced, spare JCB parts. Established in the year 1985, the company has helped the struggling JCB owners to find quality spare parts at highly competitive prices. With these spare parts, their machines are able to deliver optimum performance. Apparently, those who want to buy JCB genuine parts can count on Robot Components Pvt. Ltd.
Contact Details:   Robot Components Pvt. Ltd.
Plot No 2, Site No 2,
14/3, Mathura Road,
Faridabad-121003
Tel (India): +91 129-4049990 (3 lines),
129-4092800
Fax: +91 129-2276618.
Email: sales@robotindia.com/ inquiry@robotindia.com
Source :
https://goo.gl/maps/C6Udb874M1R2