Rooter Ranger Provides Top-notch Plumbing Services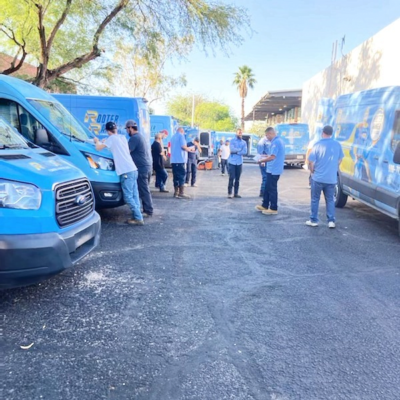 Press Release (ePRNews.com) - USA - Aug 09, 2021 - Rooter Ranger is one of the most trusted plumbing contractors in Phoenix. Their excellent solutions and affordable prices make them a preferred plumbing services provider. They always get the job done right. Their technicians are experts in locating, cleaning, repairing sewer lines, clogged drains, and more so they flow freely. They foster a culture of achievement in that, they always show up to every job fully prepared to fulfill their clients' needs promptly.
The company spokesperson said, "Residential and commercial plumbing issues can slow one down. Fortunately, no matter what the trouble is, the professionals at Rooter Ranger have the experience, knowledge and equipment to deal with any plumbing service or repair issue quickly. Offering affordable and functional commercial and residential plumbing solutions throughout the area, our highly trained specialists are all master plumbers with many years of experience. And our company carries the highest insurance coverage to ensure the protection of our clients' homes."
Looking for a plumber in Phoenix, AZ? Rooter Ranger has proudly served the city of Phoenix for many years and has seen it all. This company provides fast, affordable plumbing and emergency drain service. They don't just fix plumbing problems, but they fix them to last. From minor leaks to major mishaps in commercial and/ or residential properties, they can solve all clients' plumbing problems. They can perform kitchen or bathroom repairs, trenchless sewer repair, slab leak repair, water leak repair, pipe relining, and complete copper re-piping. This company uses quality equipment that enables them to detect a problem before it causes serious damage to a client's plumbing system. Since time is very important to most people, Rooter Ranger offers a 60-minute service.
Speaking on the benefits of scheduling drain-cleaning services, this company spokesperson said, "There are various benefits of scheduling routine drain cleaning with a plumbing contractor. A major concern is blockage prevention. Having this service performed frequently will ensure water can flow freely in the pipes, and thus one won't have to deal with a clogged drain for days while waiting for their plumber to fit them into their schedule. Additionally, since clogs are often caused by the buildup of grease, mildew, and food particles over time, they can begin to smell if left unattended for too long. By scheduling regular plumbing services such as drain cleaning will help prevent potentially smelly clogs."
All the technicians at Rooter Ranger are experienced, reliable, and, most of all, they are great at what they do. So, with them, clients don't have to worry about the job getting done right. It will be done correctly the first time. Additionally, clients don't have to worry about their loved ones' safety as each of the company's plumbing and sanitation technicians are trained and background verified. Also, they only meet clients at the moment they need their services. They bring a total of 75 years of industry experience to every plumbing project. Regardless of the size of the plumbing issue, this company's technicians are equipped to handle plumbing issues big and small. So, get a plumber in Mesa today from this company.
About Rooter Ranger
Rooter Ranger is a company that is dedicated to providing clients with reliable, professional service to meet all their needs. Clients can get a plumber in San Clemente from this dependable company.
Contact Details
Rooter Ranger
3228 N 27th St, Phoenix,
AZ 85016 US
Telephone: (888) 772-6437
Website: https://www.rooterranger.com/
Source :
Rooter Ranger