Rotary Club Downtown Boca Raton Announces Date, Honorees Host And Event Committees
Boca Raton Mayors Ball, More Than a Coveted Annual Black-Tie Gala Evening, The Fourth Annual Event Continues to Be a Celebration of Community Benefiting Health and Wellness Needs of Boca Raton Nonprofits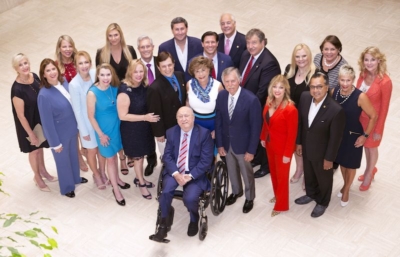 Press Release (ePRNews.com) - BOCA RATON, Fla. - Jun 25, 2018 - The fourth annual Boca Raton Mayors Ball presented by Rotary Club Downtown Boca Raton is set for Saturday, November 17 at the Royal Palm Yacht Club. Celebrating the City of Boca Raton's visionaries past and present who have elevated the community and elected officials who exemplify Rotary International's motto, "Service Above Self", the black-tie dinner/dance gala event will raise funds to support health and wellness needs of Boca Raton nonprofits.
The evening will feature a red carpet arrival and cocktail reception followed by a grand epicurean experience created by Royal Palm Yacht Club Executive Chef Joseph DiPrima, the live music of the Steve Chase Band and the presentation of the George Long Awards – named for the City's first appointed mayor in 1924.
2018 George Long Awards will be presented to:
Jerry Fedele (Individual) –When Fedele joined the 400-bed Boca Raton Community Hospital as CEO in 2008, the nonprofit community hospital was losing money and laying off employees. Now, through his decade of leadership, the beloved community hospital is profitable and growing, renamed Boca Raton Regional Hospital (BRRH) in 2012 to reflect its vision. Under his management, BRRH built the Marcus Neuroscience Institute, the Christine E. Lynn Women's Health and Wellness Institute, the Lynn Cancer Institute, and the Gloria Drummond Physical Rehabilitation Institute. He also led the hospital to establish the BocaCare Network of physicians, a group of urgent care centers and an academic partnership with the Florida Atlantic University Charles E. Schmidt College of Medicine that includes graduate medical education and medical residencies. With Fedele at the helm, Boca Raton Regional Hospital is a thriving community asset contributing to making Boca Raton a great place to live, work, play, educate "and heal".
· Best Foot Forward (Nonprofit) –Founded by Donna Biase and Debbie Ellman, Best Foot Forward (BFF) was created so that foster care youth would be afforded the same educational opportunities as all other children. It serves to empower foster care youth to maximize their potential by providing the same tools and support accessible to children in traditional homes, affording them a fair opportunity to become successful students and self-sufficient adults. While local and national statistics show that only 46% of foster children graduate high school, and a mere 3% graduate college, the award-winning 501(c)3 BFF nonprofit continues to enjoy a 100% high school graduation rate and recently celebrated its seventh and eighth college graduates. As part of its strategy, BFF pairs program participants with an Academic or Graduation Coach from kindergarten to college. Through one-on-one support, each Coach provides a range of educational planning and monitoring to ensure academic success.
· Modernizing Medicine –Developed by successful serial entrepreneur Daniel Cane and Dr. Michael Sherling, the company's mission to "modernize medicine" helps physicians increase efficiencies in their medical practices while improving both treatment and business outcomes. The company's cloud-based Electronic Medical Assistant®) (EMA™) electronic health records (EHR) system developed by physicians features dramatically different technology—specialty-specific EHR technology that thinks like a physician. Modernizing Medicine's revolutionary EMA system, intuitively adapts to each individual doctor's unique style of practice and remembers preferences providing health care professionals with easy access to patient's notes, billing information and treatment outcomes for millions of other patients. The company fosters corporate social responsibility, from the executive team to each employee who is encouraged to give back to the community in their own personal way by using their annual "paid day off benefit" to donate their time and talents to the charity of their choice. Individuals are encouraged to become involved members of the community by joining local organizations to encourage development both professionally and personally that extends outside of their day-to-day responsibilities.
"With the exceptional caliber of our 2018 George Long Award recipients and the community excitement that drives this annual iconic evening, we anticipate another early sellout and thus encourage sponsors and event goers to reserve their seats as soon as possible," shares Mayors Ball Co-chair Rick Howard.
Co-chair Arlene Herson, who has served as Red Carpet Mistress of Ceremony each year since event inception, reports that funds raised each year through the annual Boca Raton Mayors Ball fulfill grant requests approved through the Rotary Club Downtown Boca Raton's "Service Above Self" grant program. Launching each January, the grant program is open to all Boca Raton-based nonprofits with needs for health and wellness services and programming. Proceeds from the 2017 Mayors Ball benefited 24 Boca Raton-based nonprofits and Rotary International's Polio Plus Program that helps globally to eradicate polio and other diseases.
Host and Event Committees Reflect Cross-Section of City Visionaries and RCDB Members
With Bobby Campbell serving as the 2018 honorary chair, the Event Host committee includes Mayor Scott Singer, former Mayors Susan Whelchel, Bill T. Smith and Steven Abrams, who currently serves as a Palm Beach County Commissioner; Boca Raton Deputy Mayor Jeremy Rodgers; Council Members Monica Mayotte and Andrea Levine O'Rourke, Patricia Carpenter, Mary Csar, Terry Fedele, Gloria Hosh, Michael Kaufman, Bonnie S. Kaye, John Kelly, Debbie Leising, Christine E. Lynn, Doug Mosley, Barb Schmidt, Pat Thomas, John Tolbert and Connie Siskowski.
Committee members include 2017 Ball Co-chairs Kim Champion and Constance Scott, Co-chairs Emeritus Jon A. Kaye and Kari Oeltjen along with Ann Brown, Deborah Freudenberg, Ingrid Fulmer, Rick Howard, Shaheer Hosh, Alan Kaye, Dyana Kenney, Michelle McLean-Bailey, Derek Morell, Lynda Palmer, Dr. Allen Konis, Linda Petrakis, Dr. Ron Rubin, Howard Schwartz, Robin Trompeter, Michael Walstrom, Gloria Wank, Jonathan Whitney, Janice Williams, Jo Anne Williams and Marilyn Wilson.
Ball Sponsorships Taking Flight
Sponsorship opportunities are available at various levels from Presenting, Title and customized sponsorships. To date, sponsors include Boca Life Magazine, Boca Raton Airport Authority, Boca Raton Regional Hospital, James & Marta Batmasian Family Foundation, Bobby and Barbara Campbell, Cristino Fine Jewelery, Excell Auto, FP&L, Joni and Al Goldberg, Arlene Herson, Kaufman Lynn Construction, Kaye Communications, Modernizing Medicine, Sklar Furnishings and Gale Wechsler/The Wechsler Foundation, Rosie Inguanzo-Martin Allegiance Home Health & Rehab, Habitat for Humanity of South Palm Beach County, Loews Hotels. Kari Oeltjen & Dr. Jeffrey Berman, Douglas Rudman The Rudman Law Group, Howard & Evelyn Tai, Waterstone Resort & Marina.
Celebrating "Boca at its best" the Boca Raton Mayors Ball "Service Above Self" Fundraiser is an opportunity to recognize individuals and organizations that through their daily community involvement and business practices promote the city of Boca Raton in a positive way and showcase Boca Raton as a great place to live, work, play and educate. For sponsorship/underwriting opportunities and ticket reservations, visit www.rotarydowntownbocaraton.org or contact Deborah Freudenberg at 561-299-1429, email mayorsball@rotarydowntownbocaraton.org.
Source :
Rotary Club Downtown Boca Raton Fund