Saudi Arabian Actor Fahad Olayan Makes his Way in Hollywood
Multi-award winning actor Fahad Olayan, who first gained fame from his roles on popular series in the Middle East, makes a name for himself in Hollywood thanks to his performances in several hit projects.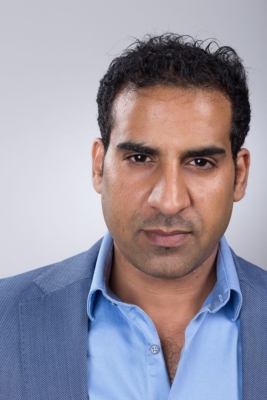 Press Release (ePRNews.com) - LOS ANGELES - Jul 25, 2017 - It's not everyday we hear about a Saudi Arabian actor making their mark in Hollywood, at least not with the same impact that actor Fahad Olayan has made on the industry. Originally from the Gulf States of Saudi Arabia, Olayan rose to fame at home in the 90s at age 13, when he began taking on lead roles in highly watched Middle Eastern productions such as the comedy series "Tash Ma Tash."
Since getting his start in the industry, Olayan has amassed a remarkable repertoire of work that includes leading roles in Daytime Emmy Award winner Shane Harness' 2013 dramatic film "58," award-winner Jack Hartnett's 2015 action drama "Sovereign," Craig Shimahara's ("Good Soil") fantasy film "Masterless," the series "Cello" and "Tornado Alley" with Primetime Emmy nominee Dave Hoffman ("Biography").
"I love to put myself inside another character…. And utilize my imagination," says Olayan.
After making a name for himself in the Middle East, Olayan moved stateside to complete his master's in acting for film and television. Quickly gaining traction with U.S. filmmakers and fans alike, Olayan's unique look, magnetic appeal and versatility on screen have helped him land an impressive list of lead roles in a relatively short amount of time.
Earlier this year Olayan earned extensive accolades internationally for his standout performance as John in the action film "Losing Life" directed by Musab Alamri ("Hot Weather"). Revolving around Olayan's character John, a wealthy man with two kids and a stunning wife who, after going to the doctor to diagnose a headache that won't go away, finds out that he's sterile and can't have children without having surgery, which leads him to question the loyalty of his wife
While Olayan was a well-known figure his performance in "Losing Life" put him on the map on an international level in a big way.
With Olayan taking home the Diamond Award for Best Actor in a Leading Role from the International Independent Film Awards, the Best Actor Award from the Los Angeles Film Awards, the Festival Award from the Festigious International Film Festival, as well as awards at Los Angeles Cinefest, Global Shorts Los Angeles and the Top Shorts Monthly Film Festival, the actor was definitely the driving force behind the film's overall success.
"Fahad is one of the most amazing actors that I've met in the industry. He's passionate about his career as actor, and he always knows what to do," explains "Losing Life" director Musab Alamri. "He poured himself inside the character, and gave an excellent performance, the film wouldn't have been as good without him as the lead character."
For Olayan, 2017 has unleashed one success after another. In January audiences saw him perform the critical role of King Hussain in the Primetime Emmy nominated series "The Story of God with Morgan Freeman." Led by Oscar Award winner Morgan Freeman (Se7en, The Shawshank Redemption) the historical series brings to the screen a poignant quest in search of answers as to what initial civilizations thought about creation, how religions around the world perceive god and the afterlife, as well as many of mankind's other big questions. In the episode "Proof of God" Olayan gives a riveting performance as King Hussain, a former king of Iraq who killed in the name of god.
Proving his adept skill for versatility in terms of both the genre and the characters he takes on, Olayan played a critical role in the comedy series "Maid to Order" earlier this year, which also stars Katie Carpenter from the film "All Girls Weekend." The series follows two girls who start a maid service, but quickly discover that entrepreneurship is much more challenging than they thought. Olayan comes into the series in the episode "The Text Files" as the 'Bucket Man,' a loathsome character who sells people's organs. The evil-natured qualities Olayan imbues his character with in the series makes him an easy character to hate, and serves as a driving force within the overall plot as the girls dealings with him prove how little they know about the 'real world.'
Fahad Olayan recently wrapped production on several other projects, such as Jaden Hwang's action-packed crime film "Bloody Hands" starring award winner Klement Tinaj ("Furios 7," "Dollz"), Primetime Emmy Award nominee Randal Kleiser's ("White Fang")sci-fi drama "Defrost: The Virtual Series" starring Oscar Award nominee Bruce Davison ("X-Men"), and Saudi Arabian director Hamzah Tarzan's ("Losing Senses") mystery thriller "Mike Boy."
Due out in 2018 Olayan takes on the critical role of John in the film "Mike Boy," starring Emily Killian from the four-time Golden Globe Award winning series "Glee" and Robert Sisko from the IndieFEST Film Award winning horror film "The Cursed Man." The film follows an orphaned waiter who, in searching for answers to his past, gets involved with a powerful secret organization that forces him to carry out a series of dangerous missions.
Having performed a diverse range of roles in over 17 television shows and several hit films, as well as earning extensive industry accolades on an international level for his performances, actor Fahad Olayan is definitely one of the Middle East's most talented exports in recent years. As he continues to land starring roles in highly anticipated productions, such as Omer Sarikaya's fantastical drama "Mesopotamia," Christopher Sheffield's ("Off Sunset") romantic adventure film "Memoir," which also stars Michelle Arthur from the Golden Globe Award winning series "Modern Family," and Bailey Kobe's ("The Caterpillar's Kimono") drama "Rag Doll," Olayan is one actor we know will be seeing a whole lot more of for years to come.
Source :
True Blue PR

Business Info :
True Blue PR
United States