Scientology Volunteers of Tel Aviv: On the Pulse of the Community's Needs Through the Long and Debilitating Pandemic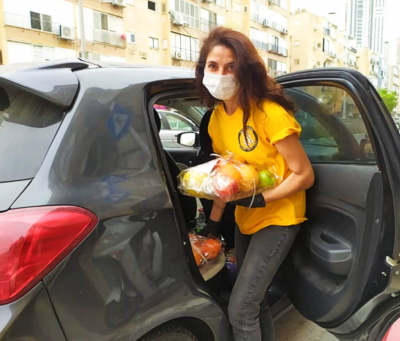 Press Release (ePRNews.com) - TEL AVIV, Israel - Feb 02, 2021 - There is a Jewish proverb: "A little bit of light pushes away a lot of darkness." Eleven months of pandemic have brought home the truth of this saying to the many volunteers of the Scientology Center in Tel Aviv.
When the pandemic began, the Center reached out to welfare agencies, private charities and WhatsApp groups to find out and deliver what was needed and wanted. The work is not heroic, it's simply help, they say. Here is an overview of one recent week's activities.
 A call came from the Tel Aviv Welfare Department. The volunteers responded, distributing food to three families in the south of the city. Other volunteers delivered food to five families for the sabath on behalf of a Jaffa-based ultra-Orthodox association.
Bat-Yam Municipality procured two computers to enable at-risk youth to study from home. They needed another one for a prison reform service. Could the volunteers help? Volunteers delivered the first two computers to the youth group and an executive of the Scientology Center arranged the donation of a third, which they brought along with blankets to the Tel Aviv office of the national Prison Reform Authority. Throughout the pandemic the volunteers have worked with that office to assist prisoners' families, many of them low-income single mothers and at-risk children.
The following day, three teams of Scientology volunteers brought food to 20 families. Others answered the request of the Israeli Solidarity Association and bought and delivered groceries to elderly residents. 
As the week continued, teams took food to 12 families for the Tel-Aviv Municipality Welfare Department. Volunters picked up fruit baskets from Bat Yam Young Volunteers Club and brought them to families in isolation. 
And, as they have throughout the pandemic, four teams of volunteers provided food to 40 families while another team picked up food for 20 families from two restaurants and delivered it to a local charity.
None of the work is dramatic or romantic. All of it is needed. And the volunteers are famous for carrying out these tasks with cheerfulness and respect.
The volunteers are headquartered at the Center of Scientology Israel, dedicated in 2012 by Mr. David Miscavige, ecclesiastical leader of the Scientology religion. 
They are trained Volunteer Ministers, a religious social service created in the mid-1970s by Scientology Founder L. Ron Hubbard. 
For more information, visit the Scientology Newsroom.
CONTACT
Church of Scientology International
Media Relations
mediarelations@churchofscientology.net
(323) 960-3500
Source :
Church of Scientology International

Business Info :
Scientology