Sendbestgift Launches New Gift Range for Diwali, Christmas & New Year in Your Budget
Sendbestgift, India's largest online gift portal has launched new gift collection for Diwali, Christmas & New Year in your budget, If you are thinking to wish your beloved ones on anyone of these occasions then order gifts online from here.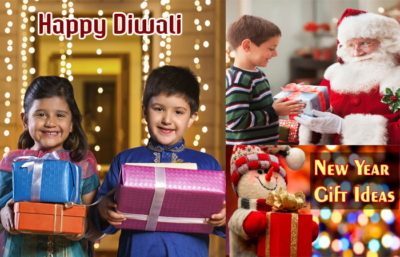 Press Release (ePRNews.com) - 1235 P, Near Delhi Public School, Sector 45 Gurgaon, Haryana - 122001 - Oct 12, 2020 - Festivals are a way to pass on culture, tradition, and ethics to the next generation. However, there is something more to celebrating festivals and occasions than propagating culture. Festivals and occasions are more like opportunities when people can connect with their beloved ones. This fast paced life of the twenty-first century has got people scrambling to adhere to their deadlines, hone their skills, or work hard to step up the ladder of success. Festivals and occasions provide us the chance to unwind, to get distracted and to indulge in amazing and appreciating the amazing people around us. Gifts have been at the centre of celebrations and that is why SENDBESTGIFT, a leading online gift shop, has launched New Range of gifts for Diwali, Christmas and New Year.
Diwali, the festival of lights, is celebrated to commemorate the return of Lord Rama after fourteen years of exile. People put on new clothes, indulge in sweets, and amaze their beloved ones with amazing Diwali gift ideas. It has a wide collection of gifts for Diwali. For Shubh Deepawali 2020, the website offers Diya, candles, home decor items, flowers, sweets, Pooja thali, Laxmi Ganesh idols and much more. The online gift portal is known for its huge collection of delicious Diwali sweets. Kala jamun, rasgulla, khoya sweets, kaju katli, soan papdi, and motichoor laddu are just a few tempting ones to name, the website offers much more.
Apart from the traditional Diwali gifts like dry fruits, home decoration items, and sweets, the website offers gifts like personalized items, cards, accessories, and chocolates for Diwali. Customers can present their folks with any of these or a combination of chocolates with personalized Diwali gifts. Personalized gifts are one of the most thoughtful gifts and hence the company offers a multitude of customized gifts for its wide customer base. One can send Diwali gifts for family, amaze dearest friends with Diwali gifts for friends or forge stronger corporate ties using the premium corporate Diwali gifts offered by the online gifts portal.
To send Diwali gifts online, SENDBESTGIFT offers a varied range of delivery options. From amazing friends and family members at the last minute to leaving them awestruck in the middle of the night, customers can choose a delivery option based on their needs. The online gifts provider offers same day Diwali gifts delivery in India, next day delivery and the midnight gift delivery in India.
"SENDBESTGIFT is not just an online gift store, it is one big family and we consider our loyal customers to be a part of our extended family. Just like family, we strive to serve our customers with nothing but the best. This festive season, we have upgraded our gifts collection to ensure that our clientele has all the trendy gifts to choose from, be it for Diwali gifts, Christmas gifts or gifts for Happy New Year 2021. Our diversified products range in association with our diligent services ensures that our customers have the finest online gift shopping experience. Shop for Diwali gifts, Christmas gifts and New Year gifts for girlfriend, wife, family & friends from our user-friendly website to give us the chance to make this one of the most memorable festive seasons for you and your beloved ones," says the founder and Chief Executive Officer of SENDBESTGIFT Narender Kumar.
The website is also laden with innovative and palatable Christmas gift ideas 2020. Plum cakes, flowers, plants, greeting cards, personalized gifts, Santa Claus teddy bear, Xmas tree and much more have been laid out in the online Christmas gifts of SENDBESTGIFT. Customers can opt for the services of this online platform to buy Christmas gifts online from anywhere in the world.
New Year, with itself, brings a lot of new opportunities and among these is the opportunity to astonish beloved ones. New Year eve parties to delightful gifts, there is a lot that keeps people all hyped. Nothing beats in-fashion New Year gift ideas when it comes to amazing people. One can titillate dear ones with a cake for New Year or touch their heart with a meaningful message on a New Year card. Besides cakes and cards, the website has New Year flowers and chocolates in its gifts collection. The website offers the leeway to personalize its gift options and also gives the freedom to create a basket of New Year personalized gifts for a tailor made gifting experience. Customers can shop New Year gifts online even at the last minute. Next day delivery and the same day New Year gift delivery can be opted to send gifts in one or within hours respectively.
About Us

SENDBESTGIFT is one of the premier organization undertaking the task of connecting hearts. The company is known for its commitment to offering a plethora of gifts and the access to a dexterous delivery network. Driven by the passion of diligent individuals, the company strives to improve its services to match the ever-increasing demands of its loyal customer base. It offers gifts for all the occasions and festivals and it provides a robust delivery system to ensure that the gifts reach its destination within time. The company is operating same day delivery in more than 1000 cities in India and serves midnight gift delivery option in more than 100 cities across the nation. Currently, the company is in its expanding mode and is expanding its services to people who want to send gifts to India from abroad.