Slab-Pro Introduces Invisible Comic Backing Boards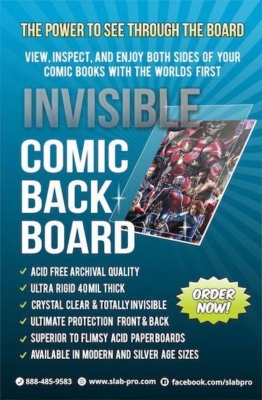 Press Release (ePRNews.com) - BUFFALO, N.Y. - Feb 03, 2017 - Slab-Pro, a company specializing in products for comic-book collectibles, is introducing see-through Invisible Comic Shield backing boards for comics. The backing boards are something of a revolution in an area of the comic market that hasn't seen one in quite some time.
When comic collectors speak of comics being "bagged and boarded," they're referring to a comic that's been slipped into a protective mylar sleeve with a cardboard backing board to keep the comic flat.
The introduction of the see-through Invisible Comic Shield backing boards allows collectors to see both sides of their bagged comics. Unlike traditional "slabbed" comics, which are permanently sealed in plastic, Invisible Comic Shield backing boards offer rigid protection while still allowing access to the comic. And with the ever-increasing prevalence of wraparound covers, as well as sketch covers featuring original art, clear backing boards appear to be an idea whose time has come or whose time is even overdue.
The backing boards are manufactured from crystal-clear material, providing unrivaled protection and display quality.
Sean HusVar is Slab-Pro's CEO and guiding hand, not to mention a serious geek who has a full-size suit of Iron Man armor in his house. The Invisible Comic Shield backing boards were his brainchild.
"We're literally giving comic collectors their first look at both sides with this awesome innovation," said Slab-Pro CEO Sean HusVar. "I'm excited to share what I think is a game-changer for the comic collecting world!"
The Invisible Comic Shield backing boards are archival quality, made from acid-free material. Ultra-rigid at 40 mil thick, Invisible Comic Shield backing boards are superior to any paper backing boards on the market. Completely see though, Invisible Comic Shield backing boards are available in both Modern and Silver Age sizes. Typical "slabs" seal a comic permanently in plastic. But Invisible Comic Shield backing boards provide protection while offering easy access to the comic. Traditional paper backing boards offer only a limited view, and can introduce damaging acid to the comic.
"I'm a collector, first and foremost. I've been collecting since I was young. But I'm also a dealer, and I sell comics at tradeshows. I've even owned comic book retail stores," HusVar said. Those experiences contributed to HusVar's vision of the see-through backing boards. "Comic book dealers constantly have to take valuable books down from their displays and open them to show the condition to a prospective customer. Each time they remove a comic, they risk damaging it. This seemed like such an obvious solution."
John Belskis is a comic retailer as well as a convention promoter with three decades of experience in the business. His shop, Excellent Adventures in Ballston Spa, NY, specializes is Golden and Silver Age comics, along with carrying a complete array of new comics. Belskis has embraced Invisible Comic Shield backing boards as essential for both retailers and collectors.
"It's a great idea that makes perfect sense. Selling raw 'unslabbed' comics will be made simpler using this product. It cuts down on time and potential damage," Belskis said. "Our customers will love these. I can't wait to get them in the shop."
One customer who has already been converted to the Invisible Comic Shield boards is James Best, a comic and art collector who first encountered the backing boards at Slab-Pro's booth at last year's New Jersey Comic Expo convention.
"The quality of these boards for the price was incredible, but overall what really grabbed me was the idea of being able to display the back of a comic," Best said. "I kid you not, a few months prior I was bagging up a book and I was torn about having the cover or the back cover show, since the back cover was the reason I purchased the book. I have a number of books that have autographs on both the front and back, so it's nice to be able pull a comic out of a box and show if off without taking it out of the bag."
Many comics publishers release limited-edition variant covers as part of their regular publishing plan. Every month, new variants hit the collector's market, some of them quite rare and pricey.
"With so many variant covers on the market now, many of them wraparounds, books are being bought more and more for their covers. Protecting them, and being able to fully appreciate the cover, is important to any collector," Best said.
"I can also see how dealers would find these backing boards an even greater value than a collector would. Many times while buying an older, more expensive book, I want to see both the front and back before deciding to buy it. With these, the dealer can show a book's condition to the customer without ever removing it from the bag."
Slab-Pro says its mission is aiding collectors "protect, enhance and display" their comic collectibles. Invisible Comic Shield backing boards seem like an obvious solution for all three of those pursuits. So obvious, in fact, it's surprising that such a product has never been introduced previously.
"I'm sure others have thought about it," Slab-Pro's HusVar admitted. "But we were the ones to get it done!"
Slab-Pro was founded in 2001 with the goal of offering the finest protection and display products for Comic Book Collectibles. Since debuting their original silicone bumper for graded comics, Slab-Pro has expanded its line to a wide range of products, including Comic Portfolios, UV Protectors, and now Invisible Comic Shield comic boards.
http://slab-pro.com/
http://www.sleepinggiantcollectibles.com/
Source :
Slab-Pro