SMILE media, LLC, Announces Web Design Creation and Digital Marketing in Boston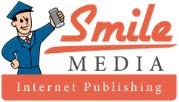 Press Release (ePRNews.com) - Boston, MA - Oct 04, 2017 - SMILE media, LLC, an agency with offices in Boston, MA and Exeter, NH designs websites, and does development and digital marketing. The company works with a group of diverse staff members laden with expertise in marketing, design and software development. The workers are determined to maximize business performance through technology efficiencies, progressive thinking, and analytics. SMILE media's team of technical professionals combines their collective knowledge and experience to learn and advance clients' business needs, and to design applications which maximize an individual's strengths and goals.
Addressing clients in a recent meeting, the Director said, "Our core values speak volumes about our reputation. We strive to meet each of them. One of the core values include efficiency and simplicity. SMILE media embraces simplicity and thrift throughout all the work we do. Our approach to business development is strictly customer-focused with an unwavering commitment to delivering straightforward and high-quality solutions that will satisfy high-end efficiency requirements."
SMILE media is one of the leading creative agencies in Boston. The firm utilizes its staff's creativity to develop stunning website designs with quality functionality and capabilities. The company helps its clients sell their products and services online, by using a reliable and secure platform, which looks lovely on any device. The firm is also passionate about website development. It does this through uncovering opportunities and increasing performance of a vision. With the help of a highly skilled development team, and through in-depth and robust market research, the agency will create a customized website exactly the way the client envisioned it.
Going forward, the Project Manager added, "SMILE media is also promoting internet marketing in Boston. The agency endeavors to deliver a valuable and meaningful experience to meet our individual unique clients' needs. We strive to do this through using personalized and dynamic digital marketing strategies. SMILE media will ensure that your brand messaging will reach across multiple channels. One of the ways in which the messages will be relayed is through mobile apps. Through the development of versatile, intuitive mobile applications, SMILE media will help to innovate mobile solutions which will keep people connected while they are on the move. Today's digital world relies on the ability to be connected. This will happen through the agency developing versatile and intuitive mobile applications.''
Another core value of the company is to guarantee its clients' satisfaction; the firm makes sure to provide its customers with the highest quality web design, digital development marketing services and web designing the industry. It is also worth noting that SMILE media offers video marketing services as well, and that the agency backs all these services with a 6-month happy guarantee. If any of their clients are not satisfied 100% with any work provided for whatever reason, the agency corrects it to make it right or gives a refund.
About SMILE Media, LLC
SMILE media agency is a web designer in Boston Ma. The firm has partnered with Tokbox.com, and that allows the two companies to build live interactive videos and enable messaging services into the customers' website and mobile apps. The agency prides itself to have successfully created and developed a social network called Infinity Social Network (ISN). The corporation also offers Moodle developments which are ADA and SCORM compliant and has exhaustively deployed solutions for The Equal Rights Center in Washington, DC.
Source :
SMILE Media, LLC