Smokeys Chem Site Announces Latest Release of Legal High Powders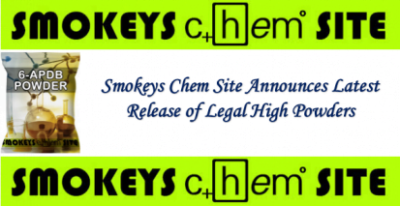 Press Release (ePRNews.com) - LONDON - Sep 08, 2016 - Smokeys Chem Site, a supplier of absolutely pure & high quality legal highs in Europe, has recently released new chemicals, which are available at its online store at affordable prices. Customers can now purchase legal highs powders from Smokeys Chem Site's web store for their research purpose and scientific experiment.
Customers from around the world can order research chemicals and noble psychoactive substances for medical studies, hassle free and at amazing rates. Smokeys Chem Site is known for its excellent customer service, fast delivery and high quality chemical inventories. It also offers Bitcoin purchase option along with other secure payment methods in order to provide customers more flexibility in terms of buying their chemical compounds. The newly released legal highs include NRG 2, NRG-3, Dimethocaine, MDAI Powder, Nitracaine Powder, Phenylethylamine (PEA) Powder, Synthacaine Powder, and more. Customers now also have the opportunity to grab 20% discount offer by using BITCOIN purchase option.
Smokeys Chem Site is one of the leading online research chemicals vendors in Europe for research scholars, scientists and research companies. It has a broad product selection, same day dispatch facility, 24/7 live chat support and tracked and insured shipping. Its highly skilled Research Development team ensures scientists get only highest quality legal highs and research chemicals at cheapest rates.
"We are constantly researching and developing new products to not only enhance our product offering but also provide greater chemical purchasing options for researchers in terms of their requirements," says Matthew Grimm, founder of Smokeys Chem Site. He added, "Our latest legal high powders are high in purity and are available at best prices for the scientific community as we want to aid in the research development process."
Smokeys Chem Site's online store has a broad range of research chemicals & legal highs; all offered at least 99.8% in purity. So, customers can remain confident on the quality standards of the products. The company has earned a great reputation in the online marketplace for providing highest quality of chemicals to researchers and scientists.
To see the new releases in the research chemical category, please visit https://www.smokeyschemsite.com
About Smokeys Chem Site
Smokeys Chem Site is one of the most reliable online suppliers of high-grade research chemicals, blends, and legal high powder in Europe. The company has been trading for online for many years now and provides the best chemicals to European customers. They only supply the finest research chemicals at the purest form for research purposes to research scholars, scientists and medical & forensic laboratories. They are fully based in Europe, and do not ship to the UK. Their highly skilled Research Development team members have a wealth of knowledge about research chemicals and provide customers with the cheapest, highest purity of Research Chemicals. They offer high purity chemicals at lowest rates that cannot be beaten by other suppliers. They also offer same day dispatch facility.
Contact
Email: info@smokeyschemsite.com
Website: www.smokeyschemsite.com
Source :
Smokeys Chem Site