Source Soft Adds One More Feather To Its Achievement With .NET Services
Source Soft Solutions, an eminent mobile application development, web design & development, and digital marketing company based in India, has added one more feather to its cap by offering new technology solutions to its online services.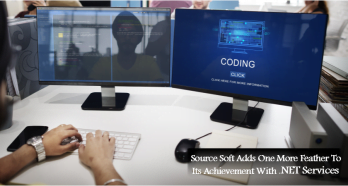 Press Release (ePRNews.com) - EDISON, N.J. - Nov 25, 2017 - The company has strengthened its IT and mobile app development capabilities with the inclusion of .NET solutions in its list of services. The other emerging technology services offered include Internet of Things (IoT) Practices, Java Practices, AR Apps and Cloud computing and Big Data.
At Source Soft Solutions, they offer end-to-end ASP.Net Web Application Services that cater to the requirements of your business, regardless of the industry vertical or size. This helps the business save huge costs on development and infrastructure investment. With core knowledge of ASP.Net (2.0, 3.0, 4.0 and 4.5), C#.Net, VB.Net, ASP.Net MVC (2, 3, 4), Web API, SQL Server, JSON, Javascript, AJAX, and more, their team of expert developers create ASP.Net solutions that effectively support your development and help you achieve your organizational goals.
.NET Core 1.0 is open source, modular and cross-platform that runs not only on windows but also on OS X, Mac, and Linux. The company's another latest addition, Java Practice, Big Data, App Development and Internet of Things (IoT) Practices will be geared to help your organization achieve its goals.
Alok Dharayan, president of Source Soft Solutions stated, "We have a team of certified and experienced .Net developers who are skilled in ASP.Net, Silverlight, C# WCF, WFP, WF, SharePoint segment and more." Further he commented, "You can hire from our team of ASP.Net developers, in best equations of cost and time and avail cutting-edge services that foster your growth and ensures best ROI."
In the present time, mobile applications have become the most effective uwhgp ways of reaching out to target customers. Source Soft is acclaimed to transform your raw idea into dynamic, integrated, user-friendly mobile application that empowers your business. The company's vision is to create user-oriented mobile apps that will elevate the digital profile of its customers. Source Soft designs and develops mobile applications for multiple platforms that run impeccably on iPhone, Android, iPad, Cross Platform, and Swift. The mobile applications thus designed can be managed for business-to-business (B2B), business-to-consumer (B2C), and business-to-enterprise (B2E) process.
From consulting, designing, development & deployment till customization, all the .Net solutions are provided under one roof. For more information, please visit: http://www.sourcesoftsolutions.com/services/hire-asp-net-…
ABOUT SOURCE SOFT SOLUTIONS
Based in India with the representative office in Edison, New Jersey, Source Soft Solutions is a premium IT consulting services company. Established in 2007, Source Soft specializes in Web Design & Development, Mobile Application Development, Digital Marketing, ASP.NET Application Development and Java Application Development. They add value to it clients projects by delivering best in class quality, cost-effectiveness and result oriented web and mobile app solutions. The expert and experienced team of innovators, creators, inventors offer the full range of digital and technology solutions. They are committed to excellence, result-oriented innovation, integrity, and transparency. Source Soft prioritizes customer service at competitive price.
Contact Us
Corporate Office
Address: 3840, Park Avenue, Suite C-205
Edison, NJ-08820 (MBE CERTIFIED)
Phone: 732-287-1438
Fax: 732-909-2282
India Development Center
Source Soft Solutions Pvt. Ltd.
(An ISO 9001:2008 Certified Company)
B – 21, Sector – 67, Noida, Uttar Pradesh – 201301
Phone: 0120 – 656-1103
Skype: support.sourcesoftsolutions
Email: info@sourcesoftsolutions.com
Source :
Source Soft Solutions Pvt Ltd

Business Info :
Source Soft Solutions Pvt. Ltd
Lote A-18 De la Darsena, Centro,
Los Cabos, Baja California Sur - 23450 Mexico
Phone: 7024014284
Website:
http://yachtscabocharters.com/