SourceMe – the new way of sourcing industrial components online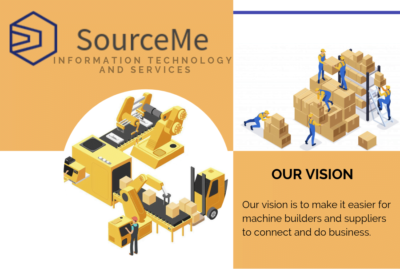 Press Release (ePRNews.com) - Stockholm - Sep 21, 2020 - The first B2B Marketplace- sector-specific solution- sourceme.com Machinery manufacturing, nowadays an accomplished, mature, and thriving industry, has been a key pillar for businesses from the first to the fourth industrial revolution. Critical to the production of not only goods but also services, machinery has revolutionized the way work is being carried, making it easier and more affordable for both manufacturers and machine builders to conduct their businesses, let alone the benefits and improvements brought to every human being. Progressing with each industrial revolution, machinery manufacturing has continuously adapted to changing trends and technologies. Yet, the rapid development of e-commerce and online multiproduct marketplaces not to mention the unexpected constrains brought forth byCovid- 19, placed the industrial components industry at a whole new level, hence calling for are-evaluation of material procurement and the supply chain. To that end, manufacturers today can no longer ignore the difficulties that their sector faces if prosperity and thrive are expected in the current or emerging markets. In other words, to this day, various obstacles in the supply chain of industrial components make its progress challenging. As such, one of the biggest issues for machine builders is the process of identifying trustworthy and reputable suppliers. To satisfy the requirements of both manufacturers and buyers, there is a high demand to build a worldwide comprehensive B2B Marketplace for industrial components to achieve quick and reliable one-stop selection. Under these conditions, the vertical marketplace SourceMe was founded through the medium of the Antler accelerator program in Stockholm. Based out of Stockholm, Sweden, SourceMe is formed by a team of engineers, purchasing experts, and technology developers who are thrilled to be able to revolutionize the supply chain of industrial components. As the founders affirm: "In our digitalized era finding and comparing the component you need shouldn't take longer than 5 minutes. We can say the same about the list of trusted suppliers for the component. Unfortunately, in reality, the time is rather 5 hours than 5minutes. That's why we created SourceMe – a platform that provides a practical toolkit for components sourcing. We've listened to the feedback of over a hundred engineers from leading machine-building companies like ABB and Danfoss, and polished SourceMe to be not just one more marketplace, but an effective solution to the sourcing problem. With growing competition and the challenges brought by COVID-19, suppliers want and need to be more digital.
SourceMe, provides them with an opportunity to access new customers in different markets and industries."SourceMe (https://sourceme.com) is an easy, reliable, and smart supplier discovery platform that enables intelligent sourcing, more resilient, and faster adjustments for machine builders. The platform helps the suppliers to deliver relevant detailed technical information to targeted buyers while marketing their product range more efficiently and easily. Addressing the need for customization, SourceMe not only drives the traffic to the sellers but is also capable of converting visitors into long-term buying customers. For machine builders, namely the buyers, SourceMe provides an easy and comprehensive way to search and compare a large number of industrial sensors, for instance, rotary encoders while giving them the chance to contact the suppliers directly. With its intelligent search and filtering technology and a single onboarding process, SourceMe instantly connects the buyers to the network of quality manufacturers for making accurate purchasing decisions and specifying purposes. The ultimate goal of SourceMe is to help machine-building professionals to find trusted and reliable suppliers, as well as to provide greater reach and exposure to highly underrepresented manufacturers who deliver quality goods. In a nutshell, SourceMe solves for trust through supplier vetting, making it easier for machine builders to identify the right supplier by expanding the availability of their choices while giving sellers access to new customers.
Source :
SourceMe