SparkLAN Launches WUBQ-159ACN(BT) 802.11ac Dual Band WiFi + Bluetooth Combo USB module
11ac Wireless USB Module Enables Wi-Fi Connection for High Throughput Networking and Multimedia Applications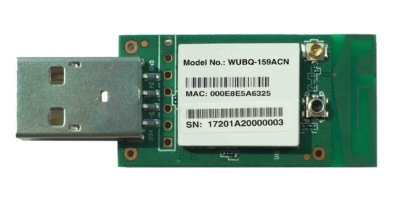 Press Release (ePRNews.com) - NEIHU, Taiwan - May 09, 2017 - SparkLAN Communications, Inc., an embedded wireless M2M (machine to machine) networking solution provider, introduces 802.11ac Dual-Band wireless with Bluetooth combo USB module for high throughput networking and multimedia applications.
SparkLAN launches WUBQ-159ACN(BT) 802.11ac/a/b/g/n 2.4GHz + 5GHz USB module ,embedded with Qualcomm Atheros QCA9377-7 chipset. It supports 1T1R with RX diversity (Support Wi-Fi/BT co-existence) technology, which runs up to 433Mbps and 1~3Mbps EDR for BT, provides higher throughput performance, reliability and range. The WUBQ-159ACN(BT) supports 20/40/80MHz and 256-QAM to maximize bandwidth efficiency.
Adopting the latest 802.11ac solution, WUBQ-159ACN(BT) is ideal for high throughput networking and multimedia applications that requires better WiFi performance. WUBQ-159ACN(BT) is a single-die wireless local area network (WLAN) and Bluetooth combination solution to support 1 × 1 802.11a/b/g/n/ac WLAN standards and Bluetooth 4.1 + HS, designed to deliver superior integration of WLAN/Bluetooth and low-energy technology.
Suitable Applications include medical devices, security systems, 3D printer, vedio streaming, PoS, digital signs, gaming machine, Medical equipment, industrial tablet PC's, handheld devices, thin client devices, and many more.
Key Features:
● Standard: 802.11ac/a/b/g/n
● Qualcomm Atheros QCA9377-7
● Antenna: Printed antenna or 1 x U.FL connectors (optional), 1T1R
● Data Rates: allows link speeds up to 433Mbps.
● Support WLAN / BT co-existence
● Support Win7/8.1/10
Company Information
Founded in 2002, SparkLAN is one of the worldwide leading wireless networking solution providers. Our product mix covers wireless embedded modules, and wireless networking devices, offering a comprehensive line of solutions for M2M connectivity in the highest growing broadband communication application. For more information, please visit http://www.sparklan.com
Source :
SparkLAN Communications, Inc.

Business Info :
SparkLAN Communications, Inc
8F., No. 257, Sec. 2, Tiding Blvd., Neihu District
Taipei - 114 Taiwan
Phone: +886-2-2659-1880
Website:
http://www.sparklan.com