StarPoint Tenant Screening offers enhanced credit report for property managers
StarPoint Tenant Screening provides tenant screening products to property managers and property management companies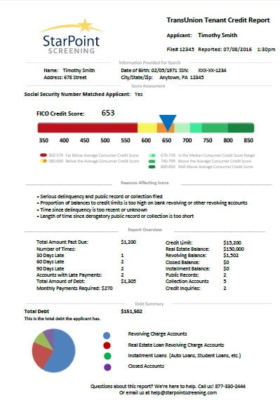 Press Release (ePRNews.com) - PENSACOLA, Fla. - Feb 17, 2017 - StarPoint Tenant Screening, an accredited reseller for Trans Union and an information services company that delivers tenant credit reports and tenant background screening reports nationwide is proud to announce their redesigned Tenant Credit Report. StarPoint expects that the new report format will not only attract new landlords and property managers, but also offer their existing customers a streamlined, logical report format that eases the path to finding the perfect tenant.
"We designed the new report format to be more visually appealing and intuitive and expect the new format to make the tenant screening process a simpler and more informed experience." Stated Kelly Gontarski, CEO.
Additional system features which benefit property managers include:
· Free online rental forms
· Printer friendly options for reports
· User Administration which allows the account admin to create multiple users accounts
· User Statuses which allows the account admin to change a user status (active, suspended, inactive)
· User Rights which allows the account admin to set other users as admins, give other users the ability/inability to view invoices and balance information, and make other users pay/not pay at time of order
· Viewing Rights which allows the account admin to allow other users to:View all reports ordered by this company, View only reports ordered by this location, View only reports ordered by this user
· Convenient billing options which include pay at time of order, monthly autopay, or monthly invoicing to be paid by check, ACH or credit card.
· Discounted volume pricing for property managers
Property managers need only to fulfill a few simple requirements from StarPoint and Trans Union to be compliant with the Fair Credit Reporting Act in order to be granted credit report access.
# # #
About StarPoint Tenant Screening
Founded in 2009, StarPoint Tenant Screening and its sister company, StarPoint Employment Screening, are wholly owned subsidiaries of The L.I.G Group, LLC. The companies provide tenant and employment credit reports and background screening services nationwide through their online proprietary software platform.
Visit us at http://www.starpointtenantscreening.com
Source :
StarPoint Screening