State-of-the-Art Veterinary Hospital is accepting New Patients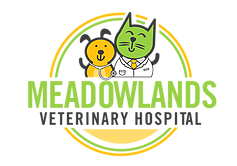 Press Release (ePRNews.com) - Hackensack, NJ - May 29, 2018 - Meadowlands Veterinary Hospital, is a comprehensive veterinary care hospital conveniently located on the corner of W Pleasantview Ave and NJ-17 S in Hackensack, NJ. Not only do they offer routine preventative care, in house diagnostics, dental surgery, orthopedic and soft tissue surgery; but also have available overnight critical care at their facility.
Office hours are 9:00 a.m. until 7:00 p.m. Monday through Friday, and 9:00 a.m. until 6:00 p.m. on Saturday, and 10am-3pm on Sunday. These convenient hours and their wide range of services is what brought Aji & Rob Janis to their facility with their sick pet. "We couldn't be happier to have switched to them. Our first experience with them was calling on a Saturday morning with a sick dog that ended up needing surgery. I wasn't sure if they would even consider us since we had never been there. A few other places we had tried couldn't care less about our pup's welfare and kept referring us to the ER because weekend was an inconvenient time for them. Thankfully Meadowlands had a different attitude! They had us come in right away and listened to all our concerns and worked out an immediate treatment plan with us. They treated our pup's situation with a very loving and caring attitude and truly helped us understand what's going on…I am glad they are in the neighborhood!"
In their efforts to provide the best possible pet care as well as accessibility to pet owners, they have developed a Wellness Care Program which allows owners to pay special, discounted pricing on routine services.
Schedule An Appointment For Your Pet
Appointments can be made by calling 201-646-2008, or online at https://meadowlandsvethospital.com/