Takata Files for Bankruptcy in Japan and the U.S.
Takata Americas, a subsidiary of Japan's Takata Corp., filed for bankruptcy protection in the U.S. Sunday evening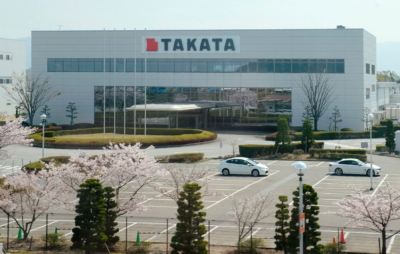 Press Release (ePRNews.com) - USA - Jun 26, 2017 - Takata Corp. filed for bankruptcy protection in Japan and the U.S. and said it would sell most of its operations to a rival, capping the steep decline of an 84-year-old Japanese company nearly nine years after it began a global recall of rupture-prone automotive air bags.
At least 16 deaths and more than 180 injuries have been linked to the defect, which causes the air bags to explode with too much force and spray shrapnel into vehicle cabins.
What began as a limited recall in some parts of the U.S. in late 2008 expanded globally and would eventually grow to cover millions of vehicles. The recall of 42 million vehicles in the U.S. is the largest ever.
Takata's bankruptcy protection filing by the parent company in Japan early Monday and a chapter 11 filing for its U.S. subsidiary in Delaware late Sunday allow the company to attempt to stabilize its finances. Takata also unveiled a preliminary agreement to sell almost all its assets to Key Safety Systems Inc., a Michigan supplier owned by a Chinese company, Ningbo Joyson Electronic Corp., for nearly $1.6 billion.
The sale would help Takata meet its $850 million payment obligation to auto makers early next year, part of a $1 billion plea deal with the U.S. Justice Department to settle a criminal investigation into the parts maker. Takata said its estimated liabilities range from $10 billion to $50 billion.
The bankruptcy filing marks a bitter chapter in one of Japan's postwar industrial success stories. Takata began as a textile company and eventually grew into one of the largest automotive safety companies with operations in more than 20 countries.
Founded in western Japan in 1933, one of Takata's early businesses was weaving lifelines for maritime rescues. During World War II, Takata's weavers were put to work making parachutes for the military.
In the 1950s, Takata applied what it knew about parachutes to create seat belts. It was the first to supply seat belts in Japan in the 1960s, and manufactured the first air bag in the 1980s. The air bags were first introduced in a Honda Motor Co. sedan in 1985.
Takata went public on the Tokyo Stock Exchange in November 2006. In its first annual report to shareholders, President Shigehisa Takada, the grandson of the founder, said the company wanted to help eliminate all fatalities from traffic accidents.
For the financial year ended in March, Takata recorded a 79.5 billion yen ($714 million) loss, its third year in a row in the red. The company's share price fell more than 60% last week as it became clear that a bankruptcy filing was imminent.
The problems that led to the recall and Takata's bankruptcy stem from its use of ammonium nitrate in air-bag inflater propellants. The chemical was later found to become unstable and lead to ruptures after aging and prolonged exposure to heat and humidity.
Although Takata executives knew their air-bag inflaters were suffering potentially dangerous ruptures, from around the year 2000 they routinely discussed fabricating test data provided to auto makers, according to indictments unsealed by a Detroit federal court.
Executives withheld information from auto makers even after ruptures caused injuries and deaths, according to federal prosecutors.
read full story at https://www.wsj.com/articles/takata-corp-subsidiary-files-for-bankruptcy-in-u-s-court-1498434994?mod=e2li
Source :
WSJ