Tech startup, SellGPU.com, Launches Revolutionary PC Trade-In Program
The Ohio-based company's hassle-free process lets gamers and power hungry users earn serious cash for their used, high-end PCs.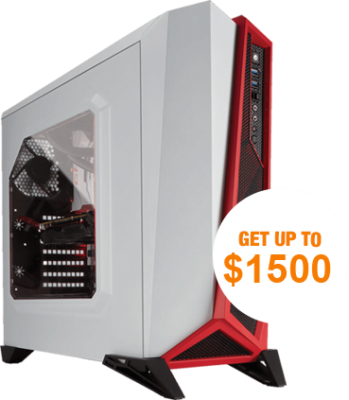 Press Release (ePRNews.com) - COLUMBUS, OHIO - May 23, 2017 - For Gamers looking to get rid of their old PCs and earn some extra cash in the process, they might just be in luck. SellGPU.com, a Columbus, Ohio startup, is setting its sights on disrupting the niche gaming and power PC markets by making upgrade cycles much easier for individuals and small businesses with its newly launched PC Trade-In Program.
"We are extremely excited about the program. We think it's going to allow gamers and power PC users tofurther their ambitions in building the most up-to-date builds," stated Said Hafez, the company's CEO.
Depending on a given PC's specifications and how old its components are, the average gamer can expect to earn anywhere between $300-$600 through the company's safe, fast and hassle-free program. In some cases, consumers may even earn as much as $1,500.
"While there are similar programs out there for smartphones and other electronics, we are proud to be the first company to offer a trade-in program for custom PCs, gaming PCs, and power PCs," stated Hafez. "We think gamers and power users have a need for such a service, and it will bring so much value for gamers instead of tucking away their old gaming PC in the closet."
Once customers visit SellGPU.com, they can receive an instant offer on their PC. After a customer accepts the quoted offer, he or she will have the option to receive a free trade-in box and prepaid shipping label to mail his or her PC. The customer then simply places the PC in the box, tapes the box, affixes the shipping label to it, and drops it off at any local UPS store.
According to Hafez, once the PC reaches SellGPU, it's carefully inspected. Once it passes the inspection process, the customer gets paid by PayPal or check within three business days. If the PC fails the inspection phase, the company returns the PC free of charge or offers a partial value trade-in depending on the customer's preference. So far, the program has been well-received by the public.
"Our customers are exhilarated by the fast and reliable service we offer," expressed Hafez. "We are getting a lot of positive feedback from technology-minded individuals who are thrilled to have an easy way to dispose of their old computer parts while earning some money in the process."
Along with its PC Trade-In Program, SellGPU.com is also the first company to offer customers trade-ins for their GPUs and CPUs.
For more information or to trade in a PC, please visit http://www.sellgpu.com/sell-gaming-pc/
About SellGPU.com: Based in Columbus, Ohio, the tech firm is on a mission to change how consumers dispose of their old computer parts. SellGPU.com is the first business of its kind to establish the recommerce business model for the computer hardware industry. By giving individuals with the need for high-end computer parts, the power to safely and quickly sell their GPUs, CPUs and PCs, the company provides them with enhanced ease and affordability when it comes to upgrading components.
Source :
http://www.sellgpu.com/sell-gaming-pc/