Tetherow Resort Becomes New Headquarters for GolfBoard, Inc.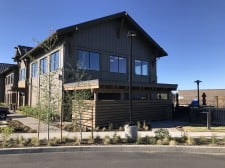 Press Release (ePRNews.com) - Bend, Oregon - Jun 27, 2017 - GolfBoard Inc. has announced the relocation of their office headquarters to Tetherow Resort in Bend, Oregon. Their new address is 61239 Tetherow Drive #211, Bend, Oregon 97702.
Tetherow, rated as the #1 Resort in the World by Booking's Best (2015), was the proving grounds for GolfBoard in the early days of development. Chris van der Velde, Managing Partner of the resort since 2009, was GolfBoard's first big fan.
"To have GolfBoard's Corporate Headquarters on-site here at Tetherow is a thrill for us," said van der Velde. "This is a company we've been very close to from the first day they showed up here with their prototype boards and infectious entrepreneurial spirit. It's great to know firsthand how far they've come over the last 5 years, and to see where they're headed."
The move takes GolfBoard back to its roots and provides the perfect location for GolfBoarding Tournaments, corporate meetings, and day-to-day operations. Jeff Dowell, GolfBoard President and Bend native, is thrilled with the arrangement.
Dowell said, "To be able to call Tetherow 'home', with its incredible facilities, world-class golf course, and the largest fleet of GolfBoards anywhere, is truly a dream come true for the company. We entertain prospective buyers from all over the world, host visiting VIPs, take them out GolfBoarding, walk to any of the 3 on-site restaurants, and put them up in some of the best on-course housing to be found anywhere. The presence and cache it gives GolfBoard is a major benefit on many levels!"
About GolfBoard
Conceived by Bally Total Fitness Founder Don Wildman, and legendary big wave surfer Laird Hamilton, GolfBoarding is an entirely new way to experience the game of golf. The four-wheel drive, Li-ion powered electric board allows users to turn by simply transferring their body weight as if they were surfing or snowboarding. GolfBoards are durable and built with a safety-first, user-friendly mantra to provide golfers a more active and engaging alternative to passively riding in a cart.
GolfBoard is now available at over 250 courses in the U.S., Canada, Mexico, United Kingdom, United Arab Emirates and Indonesia, and has distributors in Switzerland, Australia, Spain, France, and the Dominican Republic. There are nearly 2,000 GolfBoards currently in service, and Sol Boards Inc. is expecting to nearly double its global footprint by the end of 2017. 
About Tetherow Resort
Boasting magnificent mountain views and endless adventures, Bend, Oregon's Tetherow Resort is just minutes from Mt. Bachelor, fishing, and countless outdoor adventures. It sits on one of the region's best golf courses, a 7,298-yard Scottish links-style David McLay Kidd-designed championship course. With 50 hotel rooms at The Lodges, vacation rental homes, an event pavilion, three on-site restaurants and a new fitness facility and pool, the resort was recently awarded the Tripadvisor Greenleader status and ranked top resort in the world by Booking.com. Tetherow was rated 63rd by Golf Digest on its "Top 100 Greatest Public Courses" list in 2017. For more information visit www.tetherow.com.
Source :
GolfBoard