The American Brand Launches "Xpedition Red" on June 1, 2017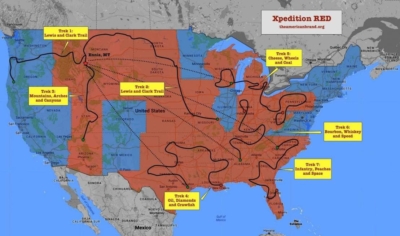 Press Release (ePRNews.com) - BOZEMAN, Mont. - May 25, 2017 - The American Brand, 501c4
Scott Kesterson, President
503.883.1142
s.kesterson@theamericanbrand.org
THE AMERICAN BRAND LAUNCHES "XPEDITION RED" ON JUNE 1, 2017
Ennis, MT: On June 1st, 2017, Scott Kesterson, will begin Xpedition RED, a multi-state adventure tour of Red State America. Xpedition RED will visit small towns, meet with small business owners, explore historic routes, and tell the stories of the rich socio-economic fabric that is the foundation of Red State America. Kesterson, who was awarded an Emmy for his video work in Afghanistan, will bring his personal and candid storytelling style of "from the ground and village," to entertain, educate and develop an understanding and appreciation for the common values that are at the root of Red State America. Xpedition RED will be divided into seven treks, ending in the final pre-election months of Fall of 2018.
The American Brand is an education, media and cultural intelligence organization designed for the 21st century challenges confronting American Red State Populism. It is an organization founded by Scott Kesterson who is also a veteran, for the benefit of all Americans to re-establish the importance of service to country and to our citizens. Our mission is to:
1. Provide daily commentary on politics and real life stories of Red State America
2. Provide education outreach based on American values, Civics and Constitutional economics;
3. Provide economic and technology support to rural and small town libraries to enhance access to education and build "learning communities" across Red State;
4. Build political intelligence to train the next generation of Red State activists; 5. Promote small business with advocacy and youth mentorship programs The
As an adventure tour, Xpedition RED is based on the values that built our country: risk, physical challenges, and enduring spirit. Ennis, MT, the new home of The American Brand, will be the hub for Xpedition RED. Each Trek has been designed to embody aspects that are at the core of Red State by highlighting the regional and cultural uniqueness that has been the foundation of Red State's love for country and the Constitution.
• Trek 1 and 2: Lewis and Clark Trail. Kesterson will retrace the Lewis and Clark trail by car and by Mountain Bike. The two legs will take approximately 2 months. The trek establishes the spirit of the America that was physically and mentally demanding, inspired innovation and required perseverance to succeed. • Trek 3: Mountains, Arches and Canyons. Kesterson then journey through Wyoming, Utah and Arizona, camping and mountain biking throughout the Yellowstone, Grand Tetons, Arches, Bryce Canyon and the Grand Canyon. Stories from local residents, towns and businesses will be the focus. The trek provides a look at the values of living and working in and around priceless landscapes where nature is not a painting, but an interactive installation to experience and enjoy. This leg will give honor to Teddy Roosevelt and his populist vision.
• Trek 4: Oil, Diamonds and Crawfish. The foundation of our economy is energy. Kesterson will begin in Houston, TX meeting with oil and gas representatives, explore the changing economies of oil and gas, and look at American energy independence. He will continue his trip to Oklahoma looking at mid-level producers of oil and gas and their position in the world markets and competition. Kesterson will continue to Arkansas to visit the only diamond mine in the United States while exploring the scenic beauty of Arkansas and Mississippi. He will end his trip in Louisiana, exploring the diverse economy and rich history of the French-IndianAmerican decent.
• Trek 5: Cheese, Wheels and Coal. Kesterson will travel to Milwaukee, Wisconsin to experience the traditional industries of dairy farming and cheese making. He will visit American automobile, truck and motorcycle manufacturing across Wisconsin and Michigan including the legends of Detroit. He will end this trek with visits to coal mines and coal communities. The trek will offer a look at traditions and modernization looking at how work and values have changed and are adapting to the future.
• Trek 6: Bourbon, Whiskey and Speed. Kesterson will start from Birmingham, Alabama with a visit to MOTUS motorcycles who produce the fastest production motorcycle in the United States. Kesterson will continue his tour through the rich histories of Tennessee whiskey producers, Kentucky bourbon producers, country music and derbies, ending in Indiana at the Indianapolis 500 Motor Speedway as a tribute to American engineering and innovation.
• Trek 7: Infantry, Peaches and Space. Beginning in North Carolina, Kesterson will pay tribute to Army Special Operations and Infantry with visits to Fort Bragg, NC, Fort Benning, GA, Fort Jackson, SC, Fort Walton Beach, FL and Tampa, FL. Along the way Kesterson will visit small farms, enjoy southern BBQ and end the trek at Cape Canaveral, FL as a tribute the achievements in science and world leadership.
Xpedition RED will have subscriber content on theamericanbrand.org website. Additionally, Xpedition RED will have live streaming features Monday through Friday at 10am ET / 7am PT and 9pm ET/ 6pm PT at facebook.com/theamericanbrand. and minds.com/theAmericanBrand. You can also follow on Twitter @scott_kesterson and Twitter @XpeditionRed for The American Brand.
www.theamericanbrand.org
Source :
The American Brand

Business Info :
The American Brand
280 W Kagy Blvd, Ste D-311
Bozeman, Montana - 59715 United States
Phone: 503.883.1142
Website:
http://www.theamericanbrand.org