The Boathouse's Big Bang on the Bay event to benefit organization Autism Partnership Foundation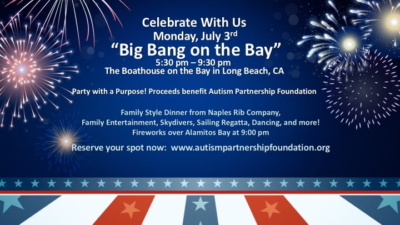 Press Release (ePRNews.com) - LONG BEACH, Calif. - Jun 15, 2017 - Autism Partnership Foundation has been selected as the non-profit recipient of proceeds from the Annual Big Bang on the Bay Block Party, presented by the Boathouse on the Bay restaurant. The sixth annual fireworks display over the Alamitos Bay will take place on July 3, 2017. "Autism Partnership Foundation is thrilled to be the beneficiary of the proceeds from this year's Big Bang on the Bay fireworks celebration and greatly appreciate the support of the community. The proceeds will allow us to continue our mission to help children with autism spectrum disorder and their families achieve the highest quality of life possible," said Ron Leaf, Ph.D., one of the co-founders of Autism Partnership Foundation.
Excitement surrounding the Big Bang on the Bay event has grown each year along with attendance. Last year, the event was the largest yet, raising $90,000 for Long Beach Charity Children Today. The local community has become a large part of the event, decorating their homes and providing donations for the fireworks show, which provides entertainment for the entire area. John Morris, the general manager of the Boathouse on the Bay and the driving force behind the event commends the local neighborhoods for their support: "This is truly a community fireworks show," Morris said. "99% of the cost comes from people around the bay."
This year's family friendly extravaganza will feature vintage aircraft flyovers, skydivers, a sailing regatta, dancing, carnival games and children's entertainment. The night will culminate in a spectacular fireworks show. All proceeds generated from the evening will go the local non-profit organization: Autism Partnership Foundation. Autism Partnership Foundation is a non-profit 501(c)(3) organization dedicated to expanding understanding of effective and empirically-supported treatment of autism spectrum disorder (ASD) through innovative research, intensive training, and increasing the availability of effective treatment for children diagnosed with ASD and their families. To further this mission, APF founded the CENTER FOR THE ADVANCEMENT OF BEHAVIOR ANALYSIS (CABA), a training institute in Seal Beach, California, committed to furthering the field of applied behavior analysis and the treamtnent of ASD by promoting expertise in the application of behavioral treatment.
Event time is 5:30-9:30 with a 9pm start time for fireworks. The Boathouse is located at 190 N. Marina Dr. Long Beach, CA. Ticket price includes a BBQ dinner and seating. Prices are $50 per adult ticket and $20 for children 10 years and under. VIP Tables for 10 people are available for $1000 to $1500.
For event information, visit http://autismpartnershipfoundation.org/news/big-bang-on-t… Or call (562) 493-1249
To find out more about the work being done by Autism Partnership Foundation, visit their website: http://autismpartnershipfoundation.org or call (562) 493-1249
Source :
Autism Partnership Foundation