The Franchisee's Lawyer Offers Expert Legal Advice on Franchising Business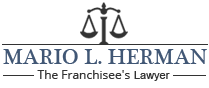 Press Release (ePRNews.com) - Washington DC - Sep 03, 2021 - The Law offices of Mario L. Herman focus mainly on franchise law, as well as up-to-date advancements and changes in the franchise market. A potential franchisor must not risk engaging with a general practitioner as the complexities of franchising law are not well-known to them. Mario Herman has analyzed documentation on franchise disclosure from thousands of distinct franchise enterprises and hundreds of significant industries. If your franchise documents are not correctly drafted, charges and delays can be incurred, and contract conditions cannot be enforced if they are disputed at a later date.
Concerning the services offered by Mr. Herman, the company's spokesperson said, "Having the right attorney is better than having an advocate whose jurisdiction is limited. Among the many services I offer in my office in Washington is selecting, operating, selling, and purchasing the correct franchise. Furthermore, I have served clients all over Georgia, Florida, Alaska, Hawaii, and California. I'm always devoted to helping all my customers no matter where they are located."
You can contact Mr. Mario Herman for a free consultation if you want to know more about franchise law. Mr. Mario is an experienced lawyer with a wide array of expertise serving people in the United States and abroad. Additionally, he takes immense pride in the quality services he provides to his clients. He also helps customers in times of influential levels of buying a franchise. Moreover, he represents them in disputes that need to be fixed by negotiation.
Speaking about the firm's personnel, the spokesperson added, "Mario L. Herman is a lawyer in the International and local franchise law sector. The lawyer graduated in 1983 from Georgetown University. Additionally, he has over 33 years of expertise as a franchisee's representative connected with 115+ franchise corporations in the United States and abroad. The attorney also assists anyone in need of buying a franchise regardless of the kind of franchise."
If you need an attorney for real estate franchises, get in touch with Mr. Mario Herman. There is a downturn in its market, and real estate franchises are still a thriving business. Brokers and agents can therefore affiliate with the franchises in most states and attain the security of a big company. Being a skilled real estate franchise lawyer, Mario L. Herman assists those interested in purchasing a franchise like Remax, Century 21, Coldwell Banker, and many others.
About The Franchisee's Lawyer
If you're looking for a franchise agreement review attorney, contact Mario L. Herman. Their firm has served thousands of franchisees in over 30 years. Due to his expertise, Mario Herman knows detailed information concerning franchise law. Despite sticking to the regulations of the Federal Trade Commission, you should also follow the Franchise Code of Conduct as a franchisor. Mr. Mario comfortably resolves through settlement debates or arbitration. He has successfully served clients from foreign states, including Mexico, UK, Poland, Australia, and Brazil.
Contact Details
Address: 5335 Wisconsin Ave. NW, Suite 440
Washington DC 20015
Phone: 202-686-2886
Email: mherman@franchise-law.com
Website: https://www.franchise-law.com/
Source :
The Franchisee's Lawyer