Tholons Releases 2020 Global Innovation Index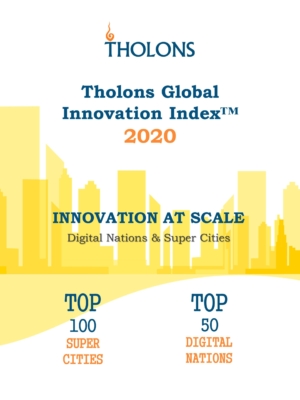 Press Release (ePRNews.com) - NEW YORK & LONDON - Aug 04, 2020 - Tholons, today, released the "Tholons Global Innovation Index​ 2020TM" (TGII), its flagship research report and ranking of the Top 50 "Digital Nations" and Top 100 "Super Cities". Services Globalization (outsourcing) and technology industry has been shaken by the paradigm shift and big industry leaders are grappling to align their business model to the NEW NORMAL and the world of enterprise digital innovation and transformation. Ankita Vashistha, President, Tholons says "Successful companies are re-designing their consumer experience, brining in innovative solutions and using AI and Intelligent Automation. Leadership will be defined by innovation and entrepreneurship."
TGII is published annually and is the industry's premier ranking of the ​Top 50 "Digital Nations" and Top 100 "Super Cities" that are leading innovation technology and entrepreneurship.
New Entrants to Top 10 Digital Nations: Vietnam.​
Top 5 Super Cities: Bangalore, Sao Paulo, Toronto, Manila and Dublin.​
Top 10 Super Cities New Entrants: San Francisco, London and New York.​
New Entrants in Top 100 Super Cities: There are 8 cities who have shown exemplary movement in embracing digital and innovation. These cities are Melbourne, Tokyo, Raleigh-Durham, Amsterdam, Berlin, Tampa, Stockholm and Paris.​​
Cities like Manila, Mumbai, Delhi, Buenos Aires, Cebu, Santiago, Chennai, Hyderabad etc., who have a significant amount of BPO and customer service work, have been hit the hardest and the industry has realized that they cannot only depend on human workers at the time of pandemic. For example, customer service in leading companies should have leveraged the digital technology to automate and contextualize a truly digital contact center with true omni-channel capability across chat bots and conversational AI.
Businesses who have embraced innovative technologies have done extremely well during these pandemic times. Many are wishing, they were better prepared. The good news is that each and every one of us in our respective businesses can still leverage numerous innovations and the new technology, to get our businesses on track in a fairly short period. We need to prepare for the recovery and get the return on investment in less than six months. Here is a list of few solutions that are being deployed by clients across the globe to manage through the global crisis (www.tholons.com):
Cloud Migration, DevOps, SecOps & WFH
AI Driven Finance & Banking Solutions and Intelligent Automation
AI Driven Healthcare Intelligent Automation Solutions
Intelligent Supply Chain
Digital Omni-channel Contact Centers with Conversational AI​
AI driven intelligent automation solutions, from Tholons (www.tholons.com), and the leading consulting and technology companies are being deployed by visionary businesses. We are living in a dynamic and exciting world. Let's go out there and re-design the experience, embrace innovators and drive change. You, as a leader have the fiduciary responsibility to your employees, customers, families and your business to act NOW!
Media Contact
New York: Ankita Vashistha | ankita@tholons.com
​London: Richard Jones | richard@tholons.com
​Bangalore: Anthony Rajesh | rajesh@tholons.com
Source :
Tholons Inc.

Business Info :
Tholons Inc.
415 Madison Avenue (14th Floor)
New York, NY 10017