Tibbett Logistics completes renewal of Romanian trailer fleet
Keswick Enterprises member company Tibbett Logistics will soon complete the renewal of its entire commercial vehicle trailer fleet in Romania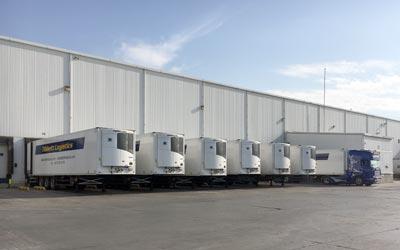 Press Release (ePRNews.com) - BUCHAREST, Romania - May 09, 2017 - Over coming weeks Tibbett Logistics, the Romania-based transport, intermodal and contract logistics specialist within The Keswick Enterprises Group, will complete the renewal of its fleet of 35 curtain-sided trailers and 48 double-chamber reefers – the culmination of a process that began in 2016. All trailers are in Tibbett Logistics' blue and gold livery, and are a regular sight on roads across Romania.
Tibbett Logistics provides contract logistics and domestic FTL and LTL transport for a wide variety of retail, FMCG and other customers in Romania.
Leased from TIP Trailer Services, the trailers are the latest and most efficient models manufactured by Krone (curtain-sider) and Schmitz Cargobull (temperature-controlled). The reefers provide highly stable temperature control within discrete temperature bands in separate chambers.
All the new trailers are connected via the latest generation of GPS to Tibbett Logistics' transport 'control tower' in Bucharest. As well as live positional data, these systems monitor many of the vital functions of the trailers – from door opening to internal temperature. Temperature levels can also be set and controlled remotely.
Tibbett Logistics has a long-term partnership with TIP, which started a decade ago with the sale and leaseback of its original fleet of curtain-siders. TIP provides a full maintenance service for all the company's road-going trailers, keeping vehicles in optimum condition at all times.
David Goldsborough, CEO of Tibbett Logistics, said: "We renew our fleet regularly to ensure the highest standards of quality, security and reliability for our customers. I am delighted to announce that we have now nearly completed our latest trailer renewal programme." Bob Fast, CEO of TIP, added: "Tibbett Logistics was one of our first major customers in Romania. Our relationship goes from strength to strength, and we are delighted to support the company as its business continues to grow rapidly."
Tibbett Logistics runs an additional fleet of container chassis units – also leased from TIP – for intermodal operations at its Bucharest International Rail Freight Terminal (BIRFT) at the P3 Park in Bucharest. The business has its own intermodal rail wagons, deployed on its block train movements between Bucharest and Constanta on the Black Sea.
Tibbett Logistics is one of the major providers of domestic distribution in Romania, having handled over 60 000 domestic FTL loads in 2016 – including multiple deliveries daily to every major town in the country from its own distribution centres nationwide. In addition to this FTL traffic, it also managed over 16 000 container transports, plus a growing volume of LTL traffic. These volumes are carried on the company's leased trailers and through its network of long-term sub-contractors.
Tibbett Logistics specialises in providing intermodal logistics and extensive supply chain management services to the automotive, DIY, food & grocery, textiles, retail and other FMCG sectors across Romania and elsewhere in South East Europe. It operates a total of 111 250 sq metres (1,200,000 sq ft) of Class A warehousing at 14 locations, and employs over 1250 skilled personnel.
High resolution photographs may be freely downloaded from:
http://www.tibbettlogistics.com/attachments/1494239671-Tibbett_Logistics_renews_Romanian_trailer_fleet.HIGH-RES-791.jpg
http://www.tibbettlogistics.com/attachments/1494239657-Tibbett_Logistics_renews_Romanian_trailer_fleet.HIGH-RES-780.jpg
Photo-captions:
Some of the 48 new double-chamber refers featured in Romania-based Tibbett Logistics' current fleet renewal programme (the company is also replacing its 35 curtain-siders)
Tibbett Logistics is one of the leading providers of domestic distribution services in Romania, handling over 60,000 full loads last year – including deliveries daily to every major town
NOTE FOR EDITORS
About Keswick Enterprises
Tibbett Logistics is wholly owned by The Keswick Enterprises Group Limited – the UK-based private equity company specialising in logistics and supply chain-related services. Formed in 2004, the Group makes strategic investments and acquisitions in supply chain-related companies, where through proactive management it can add know-how and experience. It has reinforced incumbent managements and invested resources to extend capabilities.
Keswick Enterprises is headed by John Harvey CBE, a logistics veteran who is a widely known personality in the outsourced supply chain management sector.
Please also see www.tibbettlogistics.com and www.keswickenterprises.com.
Source :
Tibbett Logistics