Top Sales Strategist, Shameca Tankerson, Joins Forces with the Forbes Coaches Council
Award Winning Business Coach, National Speaker, and Bestselling Author - Shameca Tankerson, joins other Forbes Coaches Council members.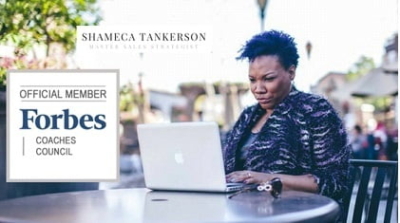 Press Release (ePRNews.com) - LOS ANGELES - Jul 23, 2017 - Shameca Tankerson – Highly sought after sales trainer and business coach, announced today her membership in the illustrious Forbes Coaches Council, an invitation-only community for world-class business professionals and career coaches.
Tankerson joins other Forbes Coaches Council members, who are hand-selected, to become part of a curated network of successful peers and get access to a variety of exclusive benefits and resources. Shameca will lend her expertise, priceless straight talk, and dangerous wisdom to the Forbes platform alongside other notable industry influencers.
Shameca is excited to share this news with the world, she says – "Being part of the Forbes family is such an honor. Their platform is an invaluable voice for the business world, and the Coaches Council offers a phenomenal opportunity to contribute my insight to inspire and stimulate powerful conversation around using fear as fuel to build a profitable business, and educate around the power of sales and what it really takes to sell more and charge more without apology use fear as fuel build a profitable personal brand."
"My clients have been known to call me a Money Making Badass I see myself as a doubt slayer in my client's businesses. Why? Because when you take my classes, attend my live intensives, or work with me, you'll quickly come to understand I take a no excuse approach. I push you to get the massive results you promised yourself," said Tankerson.
Shameca's written contributions to the Forbes platform will be published monthly. Her first article has already been published: Seven Hidden Fears that Paralyze New Business Owners: The Truth Behind Blinding fear – https://www.forbes.com/sites/forbescoachescouncil/2017/06…
Book Shameca for speaking opportunities and interviews via email at shameca@shamecatankerson.com
For more information about Forbes Coaches Council, visit forbescoachescouncil.com.
Contact
Paula Allen
Email – shameca@shamecatankerson.com
Phone: 951-572-2703
About Shameca Tankerson
Shameca is a Master Sales Strategist, International best-selling author, and award-winning business coach. She is creator of the Authority Selling Method™, a powerful yet simple framework for having conversations and making offers that serve & sell.
She works with women all over the globe to call on their courage, bust through fear and awaken their inner powerhouse so they can show up fully and activate 100% confidence with no apologies. Shameca has been described as the Secret Weapon for Ambitious Women who desire to sell MORE.
Her dynamic style, sassy stilettos, priceless straight-talk, dangerous wisdom and simple strategies leave audiences empowered and give those who experience them an incomparable competitive edge
She recently released her best-selling book: The Power of Permission: How to Set Fire to Your Fears and Sell More
For more information about Shameca, please visit www.shamecatankerson.com or get in touch via:
Phone: 951-572-2703
Facebook: facebook.com/AskShameca/
Linkedin: linkedin.com/in/shamecatankerson/
Source :
Shameca Tankerson