Transformify Wins 2017 First Women Award
Transformify won a prestigious First Women Award at the glittering ceremony that took place in London on Thursday June 29th.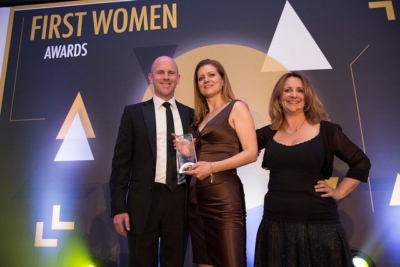 Press Release (ePRNews.com) - LONDON - Jul 21, 2017 - The CEO of Transformify (https://www.transformify.org/page/partners), Lilia Stoyanov, took home the First Women Disruptor of the Year Award (http://firstwomen.co.uk/2017/06/30/fitness-finance-first-women-2017/) after impressing the esteemed panel of judges.
Created by Real Business and supported by the CBI, the First Women Awards continues to be a distinguished programme that inspires the next generation, fuels entrepreneurial passion and galvanises women to be a force for change. The event was hosted by comedian Lucy Porter, a regular face and voice on TV and radio panel shows.
Since its launch in 2005, the awards have led the way in recognising and celebrating the many achievements of exceptional women, with past winners including Claire Balding, Ruby McGregor-Smith and Baroness Grey-Thompson.
The 2017 event, held at the Hilton Bankside in London, received nominations from over 600 women from across the UK, making 2017 a record year.
Amy Carroll, Events Director of the First Women Awards said: "Congratulations to all of our finalists who are leading the way in their respective fields while inspiring the next generation. On behalf of First Women, we would like to thank all of those who entered the awards this year!"
Speaking in support of the First Women Awards Henrietta Jowitt, CBI Deputy Director-General, said: "Once again, the CBI is delighted to support the First Women Awards. Whether a finalist, a winner, a judge, a sponsor or a guest: telling the stories of fantastic women leaders in our society is critical if we are to do even more to help other capable women progress from entry-level to senior management positions. Many congratulations to all those who have won and will continue to inspire the next generation of award winners."
The full list of First Women Awards 2017 winners:
First Women of the Built Environment: Louise Hardy, Sirius Minerals
First Women of Engineering & Manufacturing: Caroline Hargrove, McLaren Applied Technologies
First Women of Retail & Consumer: Ali Powell, Fitness First Group
First Women of Media: Verity Brown, The Specialist Works
First Women of Finance: Helen Steers, Pantheon Ventures
First Women of Public Service: Deborah Cadman, Suffolk County Council
First Women of Tourism & Leisure: Abigail Wright, spabreaks.com
First Women of Healthcare: Amber Vodegel, Health & Parenting
First Women of Science & Technology: Elizabeth Sheldon, Evidence Talks
First Women of Business Services: Hayley Johnson, Epos Now
First Women Young Achiever of the Year: Charlotte Pearce, InkPact Marketing
First Women Entrepreneur of the Year: Angela Spang, June Medical
First Women Disruptor of the Year: Lilia Stoyanov, Transformity
First Women Mentor of the Year: Donna Herdsman
First Women Business of the Year: Capgemini
Lifetime Achievement Award: Dame Fiona Caldicott
Visit http://firstwomen.co.uk/awards/
Email firstwomen@caspianmedia.com
#FirstWomenAwards
About Transformify
A CSR recruitment platform using powerful algorithms to match great candidates with the jobs right for them based on candidate's skills, location, salary expectations, specific needs etc. As a certified women-owned enterprise, Transformify (https://www.transformify.org/) helps its clients to diversify both their vendor base and work force. We value diversity and inclusion and have registered job seekers from 150+ countries, business clients on three continents, and transfer secure payments worldwide.
Transformify is backed by Virgin Startup, ranking in Startups 100 Index (http://startups.co.uk/startups-100/2017/42-transformify/), a member of the Digital Coalition (http://pledgeviewer.eu/pledges/transformify-51.html) of the European Comission and Social Enterprise UK.
For further information about Transformify, please contact office@transformify.org
About Real Business
As the champion of UK enterprise for more than 19 years, we are now the most-read SME website dedicated to high-growth businesses and entrepreneurs. Our audience is qualified and growing, with our March 2017 ABC certificate (238,000 monthly unique browsers). Through daily news, unique insight and invaluable guides we are an essential resource for thriving businesses, and Real Business is the only title to run a portfolio of industry-leading awards programmes and events with the CBI. The team behind Real Business also publish Business Advice for micro companies employing fewer than ten people.
Source :
Transformify