TRooTech presents quantum leap for startups aiming mobile first approach: Similar Apps
TRooTech Business Solutions has worked relentlessly with number of partners worldwide and this day in the industry of IT start-ups, introduces an elementary sharp approach called Similar Apps Development.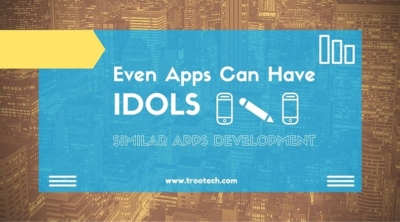 Press Release (ePRNews.com) - AHMEDABAD, India - Jun 30, 2016 - Foundation Of Similar Apps Approach
21st century has given us technological advances of which we had just dreamt about. Gradually the night dreams turned real day dreams for some of the excelling leaders and finally to reality. Human base psychology speaks about following idols and role models, that's what very much we do until growing up and having our own senses to click plus and minuses of that following.
Snap! Switch Here, bring this complete proven cycle of human growth to project on IT start-up topics. Feel it, how beautifully can the successful businesses be an ideal business model you can follow for your start-up. Pick a model, amalgamate with your niche, find the solution that requires process changes according to your ideas and hey there, you are the new organic in business.
This is precisely what we are presenting to the market today with our Similar Apps Development approach.
Success Actualization Probability
The very first epigram to receive on an idea would be, how unique is your business model for the start-up you are planning? That's acute and yes you should be creative with your ideas however that doesn't deviate you to follow what is already successful, inspiration is important.
We are lucky to be in this age where so many successful people have kept their apps open to read, we sure should respect the invitation and learn thorough. Practicality would crack in the joke here if you are not successful with pursuing the similar app idea however you are neither guaranteed 100% if at core you think of a new idea and develop an app for the same, it's always a middle ground at your pursuit.
With this approach, you are already 50% ahead of the strugglers starting-up. With our sincere efforts to make quality similar apps for you and your dedicated furtherance strongly on your inspired app idea, you can clear off the 30% gain perfectly. Let's leave out the 20% the growth hacking methodologies which nobody has ever been able to achieve precisely so why worry.
A Gaze at Practical Implementation
Don't tell us your idea, pick it from the options available on our site https://www.trootech.com/request-for-similar-apps-develop…. If you don't find an app similar to your idea from the selective options, add your own there in the option provided in the same form.
When your idea is a combination of two or more apps, fuse them together by selecting multiple.
Fill up rest of the details on the given form to let us know as precise information of your requirements as possible, so that our business experts reach you with the perfect analysis and intended compound.
Business experts will cover the points of market analysis on your idea, dos and don'ts relevant, suggestions to making of a minimum viable product to engineering of unique features to make your mobile app stand true and stable as a business.
In-between of process or prior, you can always ask for the proposal of NDA (Non-Disclosure Agreement) and it will be processed quite standardly.
Our business experts will share a 360 degree view out of the analysis carried out including the business aspect through the app development, development cycle required technically, planning up the launches and most importantly the marketing tactics to involve right from the start to long run of the business, based on the analysis of the similar app idea you have chosen.
Post requirements discussion and consolidation of suggested ways, our business experts and tech team will evaluate the exact work required to present all costs associated upfront so that you know your budgets well and investment planning to be planted.
The Development Phase
Similar Apps Development is solely an idea of business and not the copy of the coding. We are aware people to have such doubts of presuming the copy coding, web scraping or 147 other unethical methods.
All codes will be developed from scratch generically by our team of experts in Android development, iOS development, Windows or Blackberry. All designs and source codes will be duly handed over to the clients upon the successful completion of the project which they can copyright 100% and file a patent for.
Similar Apps Development is simply an approach that reduces the time of planning for start-ups like from few couple of years to couple of months. We aim time stipulation for the recent era and can duly achieve this for the current society, for its betterment.
We hope to keep the process, clean and cinch.
What Comes Additional?
It would be important for the audience base to know what industries are covered under Similar Apps Development approach so here are this wide industries and their niches for which TRooTech serves web and app developments:
Small Business
Enterprises
Games
m-commerce
e-commerce
Social Media
Widget
Banking
Travel & Hospitality
Multimedia
Healthcare
Logistics & Transportation
Marketplaces
Education
Spanking Expectations
Wanting to reckon up meritable change in the traditional processes of IT (Information Technology), this is to streamline and growth hacking should definitely show valuable improvements for the enterprises and start-ups.
We are affirmative to the utility and productiveness of this approach, would depend rest on readers to tell us by simply shooting an email to contact@trootech.com
Get in touch with TRooTech for your eBusiness Solutions and let them gear up for you https://www.trootech.com
Source :
TRooTech Business Solutions