Tryon Solutions Named Top 10 Software Testing Company for 2020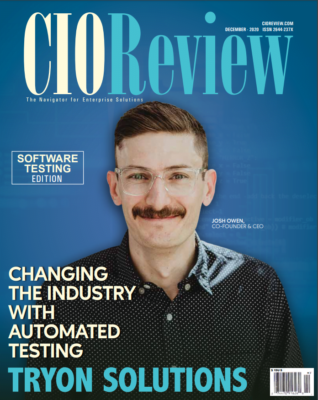 Press Release (ePRNews.com) - RALEIGH, N.C. - Jan 14, 2021 - Tryon Solutions, makers of Cycle Automation, has been named a Top 10 Software Testing Company for 2020 by CIO Review. The award echoes the importance of test automation and the positive impact it can have on a business system going through change. "We wanted to empower organizations to streamline communication and testing more effectively to deploy and support leaner solutions with a higher level of quality and ensure customers reclaim their time," says Josh Owen, Co-Founder and CEO of Tryon Solutions.
Tryon Solutions and Cycle's Behavior Driven Strategy focuses on identifying and mitigating risk to ensure customers make well-informed and profitable business decisions. By creating an ecosystem where businesses can measure or determine an acceptable level of risk and then helping introduce that change into a system, this software test management tool removes the stress and uncertainty often associated with system changes whether they are major upgrades or small, continuous improvement measures.
Cycle, a test automation platform, automates testing across the testing pyramid including functional, end-to-end, and scenario simulations for enterprise systems as well as volume testing through its patented volume testing capabilities. While other solutions are designed for automated testing after development and configuration have occurred, Cycle testing begins before these key phases and continues during and after your go-live, identifying challenges earlier and reducing production risk.
Last year exposed major gaps in nearly every aspect of supply chains. This award signifies the importance of an effective testing platform and gives enterprise software teams a strong option when implementing changes to their systems. Consumers expectations are at an all-time high, and the need to accelerate change across enterprise systems must follow suit. Test automation, as part of a continuous upgrade strategy, adds risk mitigation and confidence when accelerating change to these software systems that are critical to business growth and success.
As 2020 was challenging for all, Tryon Solutions is looking forward to and preparing for a big 2021. They want to help the Supply Chain and Warehouse Management industries accelerate change in the new year, and believe test automation can help that happen. For more information on how Tryon Solutions and Cycle Automation can help you, visit www.cycleautomation.com.
Media Contacts:
Courtney Phillips
Marketing Coordinator
courtney.phillips@tryonsolutions.com
Source :
Tryon Solutions