TUV Rheinland Issues the World's First Ultra Low Noise Certificate for Lenovo Desktop Computer
TUV Rheinland Group has issued the world's first Ultra Low Noise Certificate to Lenovo's desktop and all-in-one computers.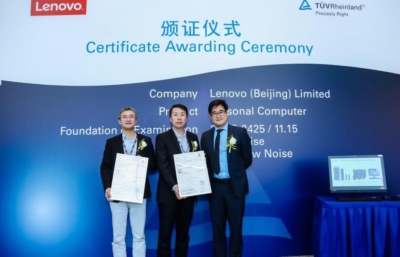 Press Release (ePRNews.com) - TSUEN WAN, Hong Kong - May 11, 2017 - TUV Rheinland Group has issued the world's first Ultra Low Noise Certificate to Lenovo's desktop and all-in-one computers. Haoqiang Zhou, General Manager of Lenovo Desktop Computer Division, and Jay Yang, Vice President of TUV Rheinland Electrical Greater China, attended the certification ceremony held at Lenovo's Beijing office this morning.
Jay hailed Lenovo's achievement as another great accomplishment brought about by "strong cooperation in the frontier of innovation." He said: "As the world's leading third-party testing and certification organisation, TUV Rheinland has introduced the ultra low noise testing and evaluation service based on its wealth of experience in testing and certification, and its analysis and understanding of market demands." He reaffirmed the company's aim to assist manufacturers in maintaining rigorous product quality control, increasing product competitiveness, and fulfilling a 3-win situation for consumers, suppliers and brands through continuously introducing innovative services.
Ultra Low Noise — Different Experience
In recent years, the appearance, comfort in use, eco-friendliness and energy efficiency of desktop and all-in-one computers have become important considerations for consumers. The noise generated by a device directly affects the user's hands-on experience. Studies have shown that persistent noise, such as that made by a computer, can adversely affect the body's immune system and lead to a series of health concerns.
As a leading PC manufacturer, Lenovo places great importance on the needs of customers and is committed to improving the product quality to provide a better user experience. Lenovo has developed strict specifications for each individual Noise emitted component of its computers to achieve component-level noise control. The ventilation system has an innovative design for improved cooling efficiency and a simplified air duct. A Smart Temperature Control regulates the speed of each fan, and the external vibration isolation design of the rotating parts and chassis is optimal for minimising noise. These measures effectively reduce the noise and ensure outstanding performance of the devices.
"We have received the world's first ultra low noise certificate issued by TUV Rheinland, which demonstrates that Lenovo focuses on the hearing health of our consumers seriously," said Haoqiang Zhou. "Lenovo puts the customer needs first, and assists consumers in choosing safe and high quality products," he continued, "We are committed to providing our consumers with a better user experience, and promoting a healthy and sustainable environment for the PC industry."
TUV Rheinland and Lenovo — A Powerful Alliance
Since 2005, TUV Rheinland has worked closely with Lenovo in its production of monitors, all-in-one PCs, desktop PCs, laptops and servers. TUV Rheinland provides testing and certification services for device-specific functions, such as Green Certificate requirements, Smart Wearables, Paper-like Display, Eye Comfort, and Wireless Touch. To date, TUV Rheinland has assisted the Lenovo Group in acquiring more than a thousand certifications from all over the world on products that have been developed at home and abroad.
TUV Rheinland has developed the new 2 PfG 2425/11.15 standard to test the noise level of desktop and all-in-one PCs. A Low Noise Certificate is issued to products that are compliant to the limits, while an Ultra Low Noise Certificate is awarded to devices that fulfill much more strict limits. The 2PfG 2425/11.5 standard is used to evaluate the noise performance of PCs. It specifies the basic requirements for noise testing parameters, including the environment and configuration, methods, and limit values.
"As an independent, impartial and professional third-party organisation, TUV Rheinland will continue to focus on market demands and technical challenges to provide safe and sustainable solutions. The Ultra Low Noise Certificate is exactly what customers demand, as it boosts consumer confidence in product quality and safety, and increases the competitiveness of the enterprise and its products, said Mr Yang.
More detail: www.tuv.com
Source :
TUV Rheinland Hong Kong Ltd

Business Info :
TUV Rheinland Hong Kong Ltd
Hong Kong
Phone: 852 2192 1948
Website:
http://www.tuv.com