Types of diwans for comfortable seating and peaceful sleeping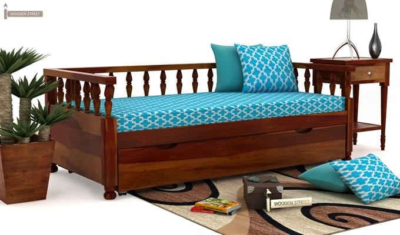 Press Release (ePRNews.com) - BENGALURU, India - Feb 04, 2017 - Sleeping and sitting on a good quality furniture is one of the best ways to ensure you get the best rest possible and this condition is fulfilled by the divan. Divan furniture is that furniture item which not only provides you with space for seating and sleeping but also amplifies the decor of the house. They are a piece which was traditionally known as armless sofas or couches but nowadays are known as box spring beds.
When it comes to choosing between a conventional bedstead and divan bed, people prefer divans because of its built-in storage and portable feature. However, the main reason that people choose a divan is that they are more comfortable than other options and because of the support they provide to the mattresses which extend the life of couches, providing a good quality sleep for many years to come. Therefore, the following are some types of diwans base that you must check before buying a diwan bed, seating cum sleeping furniture piece. So go ahead
1. Sprung Edge Divan: Unlike other types, sprung edge divan sofas has no harder edges enclosing the spring unit.Instead, they have open coils or pocket springs which cover the entire space and are attached to the base. The springs in this type allow the base to adjust according to the movement of the body.Thus, this kind of construction makes it a luxurious and comfortable furniture piece by providing slightly softer feel than others.
2. Firm Edge Divan: Divans of this nature have a wooden frame around the spring base which provides an added strength to the divans and also keeps the spring in the place.However, this kind of making can reduce the comfort level felt across the matresses.Also, this kind of divans is typically heavier and much harder to move around than other divas. Because of these issues, firm edge divans are not famous divas in the market.
Some divans are two pieces which divide down the middle.That separation can be a significant discomfort because this edge might be felt by the user.Thus, they also prove dangerous for the middle spring.
3. Platform top Divan: This kind of divan bed has a hard wooden top with box springs beneath which makes it an excellent option for the ones who want a firmer bed.Platform top divan not only supports the body while sleeping but it also allows people to get out of it easily. These types of bases for divans does not absorb any impact mattresses receive, so chances of getting wear down of springs of mattresses increases. Thus they are not a good option for those who are interested in improving the life of the mattresses.
4. Linked Divans: Linked divans are the best choice for those who have larger beds or those occupied by two peoples because it allows using two different divans and linked them.Another x-factor of these types of divans it that movement on one side of the bed do not travel to the other side and thus the tossing and turning, of one person does not disturb the other.
Knowing all the types of divans, you must be having the urge to rush to purchase. So, have a happy purchase.
At Wooden Street, you will get all the varieties of divan sofas and beds at an affordable price. They guarantee the best quality of divans in all the latest designs so that everyone can find their match. They also offer the custom made facility with free installation services to their customers as an advantage. You can have a look at their collection at http://www.woodenstreet.com/divans.
A divan is a great style of seating cum sleeping bed that offers different comfort level and built in storage. Divans with proper mattresses and base, will prove best as it comes with all the features that one wish to have in the room and are best for the guest room or living room.So check the divan bed price before buying a less spacious bed to enjoy the privacy and comfort.
Source :
Wooden Street

Business Info :
Wooden Street
104, Luhadia Tower, Ashok Marg, C-Scheme  Jaipur – 302001 Rajasthan INDIA
Jaipur, Rajasthan - 30201 India
Phone: 9610691102