UAE Ministry of Health & Prevention partners with Jafza to develop pharmaceutical sector
Ministry will approve licenses for existing factories based in Jafza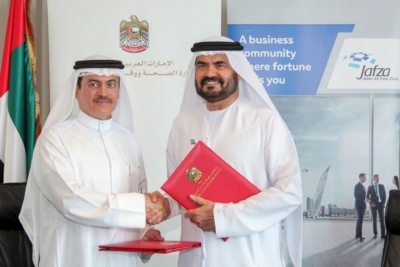 Press Release (ePRNews.com) - DUBAI, UAE - Jun 07, 2017 - UAE, June 7, 2017 – The UAE Ministry of Health and Prevention and Jafza, a DP World company, have signed a Memorandum of Understanding (MoU) for the development of the healthcare and pharmaceutical sector in the country.
The Memorandum was signed at Jafza head office by Dr. Amin Hussein Al Amiri, Assistant Under Secretary of Public Health and Licensing Policy at the Ministry of Health and Protection and Mohammed Al Muallem, CEO Jafza and Senior Vice President and General Manager of DP World, UAE Region. Senior Ministry and Jafza officials were also present.
Under the agreement, Jafza will develop details for the licensing of pharmaceutical factories within the Free Zone and help them promote public health. The Ministry will approve licenses for existing factories based on the industrial license issued by Jafza, regardless of the nationality of their owners. Factories need to register their products and declare whether they are for export or distribution. For use in the UAE companies need to obtain a medical warehouse license. Both organisations will exchange knowledge and remove any barriers to the development of the pharmaceutical sector in the Free Zone. They will also review the process of obtaining approvals and permits from the Ministry, enabling Jafza to attract more foreign investment in the sector. The agreement is part of Jafza's efforts to enhance the healthcare sector by providing the environment for companies to grow and establish 'Made in Dubai' pharmaceutical products, using Jebel Ali's infrastructure to access regional and international markets.
DP World Group Chairman and CEO, Sultan Ahmed bin Sulayem, said: "This is a major step forward in efforts to raise the competitiveness of the pharmaceutical industry in the country. It is one of the key sectors of the Dubai Industrial Strategy launched by His Highness Sheikh Mohammed bin Rashid Al Maktoum, Vice President and Prime Minister of the UAE and Ruler of Dubai. It is also a key part of the Dubai 2021 Plan, aimed at transforming Dubai into a regional hub for medical tourism as the country prepares for the post-oil era. The ultimate aim is to manufacture high quality medicines and healthcare products in Dubai comparable to those around the world with our focus on boosting investment in research and development, and attracting qualified professionals."
Dr. Amin Al Amiri said the agreement builds on cooperation between federal and local government institutions to promote a legislative and investment environment in keeping with international best practice. The UAE aims to become a global hub for international pharmaceutical companies and to encourage them to set up factories here. There are 54 international pharmaceutical companies already present in the freezone which is expected to rise to over 75 by 2021, with investments of up to AED 2 billion annually. He added that the Ministry is keen to partner with international companies to establish research centers for the production of innovative and generic drugs in cooperation with local factories. The plan is to secure medical supplies and provide medicines for patients, especially those suffering from chronic diseases as well as to ensure the sustainability of the pharmaceutical supply chain and capacity of the medical sector.
In 2016, the market value of drugs in the UAE amounted to AED 9.61 billion. By 2020, spending on medicine is expected to reach AED 13.13 billion and by 2025 AED 21.74 billion, driven by population growth, changing morbidity and the use of modern medicines such as biotechnology drugs. The UAE currently has 17 pharmaceutical factories with 34 expected by 2021. The Ministry supports them in establishing strategic partnerships with international manufacturers to produce innovative medicines and has five such agreements in place. The total medicine market in UAE reached AED 9.61 Billion in 2016, according to a recent report by Business Monitor International. It predicts that the medical equipment market in the Middle East and North Africa will grow 8.8% year-on-year from 2015-2020, opening up opportunities for health care and pharmaceutical companies.
Multinational companies in the healthcare and pharmaceutical sector are currently based in Jafza, such as Johnson & Johnson, Colgate, Roche, Sanofi, GlaxoSmithKline and Quest Vitamins.
Source :
Orient Planet PR & Marketing Communications