UniFab Releases Video Converter Pro: The Convert and Edit Solution
In an exciting development for video aficionados worldwide, UniFab has launched Video Converter Pro — breaking down barriers between various video formats and quality options. Stay tuned for more detailed coverage and comprehensive reviews.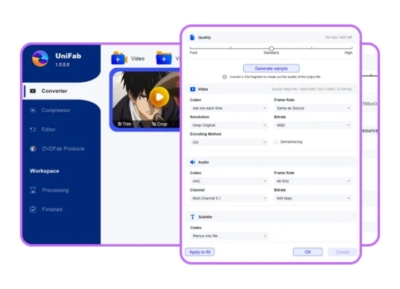 Press Release (ePRNews.com) - Washington, DC - Oct 23, 2023 - To streamline video content creation, editing, and uploading tasks for content creators, videographers, and small business entrepreneurs, a new software solution called 'UniFab Video Converter Pro' has been introduced.
The new software uniquely combines three individual offerings – Unifab Video Converter, Video Cruise, and Toolkit – all previously part of the predecessor suite, 'DVDFab Video Converter Pro.'
The release date for 'UniFab Video Converter Pro' was October 11, 2023, following a comprehensive enhancement phase based on valuable user feedback and suggestions.
Introduction of UniFab Video Converter Pro Features and Highlights 
The new software brings together a range of conversion and editing capabilities, further enriched with an assortment of diverse toolkits, providing a power-packed solution for all video-related functions in one singular platform.
UniFab further allows for customized video output to cater to the needs of professional videographers and video enthusiasts alike. The tool supports fine-tuning of video parameters including Codec, Frame/Bit/Sample Rate, Resolution, Encoding Method, Channels, and Subtitles, providing users with total control over their videos for the desired output.
Video trimming functionality, offered by UniFab Video Converter Pro, is another standout feature. It lets users quickly and efficiently cut out unwanted sections from their video, allowing partitioning into multiple segments for diverse output files.
UniFab Video Converter Pro also includes a potent video creation tool. This versatile tool comes with wide-ranging options for video edits and customization, enabling users to modify and craft their videos to perfection in a user-friendly environment.
With UniFab Video Converter Pro, video conversion and editing become simpler and more efficient, encapsulating a wealth of features in a single package and setting a new industry standard.
UniFab Video Converter Pro now boasts a high-speed video conversion capacity, managing its tasks at a staggering 50x speed with the assistance of GPU hardware acceleration. Leveraging cutting-edge technologies such as AMD, NVIDIA CUDA, and Intel Quick Sync, the program compresses and edits videos at unprecedented rates, helping users meet tight deadlines.
Implementing batch processing, it allows users to edit multiple videos concurrently. This capability enables the software to handle several convert, compress, or edit jobs for different video files simultaneously, increasing overall productivity. Once tasks are queued up in the system, they are executed in sequence automatically. With lightning-speed execution, the program ensures no loss of quality, no matter the number of tasks.
The program comes equipped with a comprehensive multimedia editing toolbox. With more than 20 independent tools for video, audio, and image conversion and editing, UniFab Video Converter Pro is designed to cater to a wide range of user requirements. This unique suite of tools focuses on performing specific tasks efficiently, providing users with a powerful and flexible solution for their video editing needs.
About DVDFab

Since 2003, DVDFab has been dedicated to developing multimedia software to empower individuals to bring their video creativity forward. DVDFab has gained the trust of more than 120 million global users now.
For more information, please visit DVDFab's official website:
Contacts

DVDFab Software
Email: service@dvdfab.cn
Chat online: https://www.dvdfab.cn/contact.htm