Untumble Rolls Out A Comprehensive Range Of Themed Birthday Party Supplies
Untumble specialises in offering a variety of products required for adding grace and tone to themed birthday parties.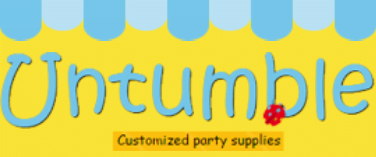 Press Release (ePRNews.com) - Coimbatore, India - Jun 17, 2017 - Parties or special occasions, such as birthday, baby shower, naming ceremonies, engagements, weddings, bachelorette parties, retirements and more, have come a long way. The present scenario is all about themed parties, which are indeed a lot more fun and unique than the traditional parties. It takes a wide range of supplies to make theme parties successful. Untumble is a leading manufacturer and supplier of theme party supplies, which help people fulfil their varied party requirements. The Coimbatore-based design studio is fast emerging as a go-to resource for those in need of cost-effective, quality and customised supplies across India.
One of the sales executives while providing a brief insight into Untumble recently commented, "Themed parties are all the rage these days and organising them is usually a money and time intensive affair. However this does not hold true for people who decide to count on us for making their themed parties successful. For providing our customers with a wholesome experience, we take good care of all their requirements. Right from the themed party invitations to props, table decoration, favours, return gifts and more, we offer it all. Being a customer-oriented enterprise, Untumble strives to achieve complete customer satisfaction. Therefore, we sell all our party supplies at our website as individual products and as theme packs."
Untumble with its shipping partner, DTDC, delivers quality themed party supplies safely and promptly to its customers in different parts of the nation, including Assam, Rajasthan, Kashmir, Meghalaya, Kerala, West Bengal, and Gujarat. Bangalore, Ahmadabad, Chennai, Kanpur, Goa, Mumbai, Mysore, Delhi, Pondicherry, Thane, and Vishakhapatnam are some major cities that the company has already covered. For the people based in and around Coimbatore, Untumble even organises themed parties as well. The design studio has organised more than 365 events and has amazingly managed 600 themed birthday parties since the year 2013.
While shedding light on the themed birthday party supplies on offer, the sales executive further added, "For enabling parents to make birthday parties as special as it can get for their sons and daughters, we bring amazing party decoration ideas, together with a wide range of party decoration items and other supplies. We cover areas like invitations, venue decor, and table decoration, together with party props for the kids, food area decor and packaging for favours and return gifts. We keep updating our website www.Untumble.com with fresh ideas and party themes for serving our customers in the best ways possible."
Over a period of time, Untumble has emerged as an ideal resource for those looking for birthday decoration items online. People can choose the desired items from a wide range available with the company without any forced minimum or maximum quantity condition. For providing customers with a rewarding buying experience, the company extends every help required. Untumble can also be a great resource for those looking for baby shower ideas online.
About Untumble:
Untumble is a design studio that has expertise in supplying customised theme party supplies. All the products available at the company add the desired grace to the themed parties. For those seeking birthday party decorations and ideas online, Untumble can be a reliable resource.
Source :
Untumble.com