Updates for Mountain Rose Borderdoodles!
Hi Guys! We have a few exciting announcements for our company: Mountain Rose Bordoodles.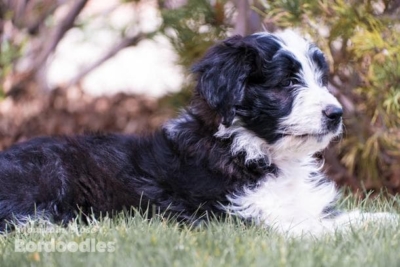 Press Release (ePRNews.com) - PORTAGE, Utah - May 24, 2017 - For those who might be unaware, Mountain Rose Borderdoodles specializes in raising and training "Bordoodles". These dogs are quite intelligent; bred from two of the smartest dog breeds in the world, the border collie and poodle. We've been in business for several years now and have some updates we would like to share with you.
Let's get started with our new and exciting news! First and foremost, we are changing our website from www.borderdoodles.com to www.bordoodles.com. We have found that "Bordoodles" is becoming a more popular name and is more often searched than the standard "Borderdoodles". But don't worry, clicking on either one will take you to our website. The first URL will simply redirect you to the second one 🙂
Second, for the first time we will be having 5 litters in the same year! But hurry quick! Our Bordoodle puppies sell fast!
Last but not least, visit our website to check our new blog that is coming up!
Many thanks!
– Mountain Rose Borderdoodles
For more information, check out our site, and list of upcoming litters here respectively: http://www.borderdoodles.com, http://bit.ly/2reBUaP
Source :
Mountain Rose Borderdoodles

Business Info :
Mountain Rose Borderdoodles
9190 W 25800 N
Portage, Utah - 84331 United States
Phone: (801) 828-0104
Website:
http://www.borderdoodles.com