Video game archivist obtains rare piece of Chicago Cubs, arcade history
Patrick Scott Patterson archives marquee for prototype Power Up Baseball by Midway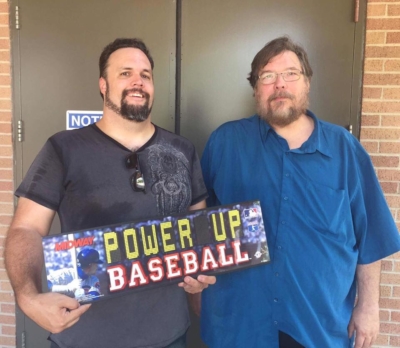 Press Release (ePRNews.com) - DENTON, Texas - Jul 20, 2017 - A rare piece of video game history has been obtained, and it has strong ties to the Chicago area.
Patrick Scott Patterson, a video game archivist and historian in Texas, recently obtained the marquee for Power Up Baseball. The arcade game was in development in the 1990s by Incredible Technologies for distrubution by the legendary Midway. It was to be an addition to the successful Midway sports series that included now-classics such as NBA Jam and NFL Blitz, but it never made it into production.
Patterson obtained the marquee from John Newcomer, an industry veteran most famous for the 1982 arcade classic Joust. According to Newcomer, only five to 15 Power Up Baseball machines were ever built, all installed around the Chicago area in 1996 for test marketing. An official license with Major League Baseball would have allowed the use of real MLB players, resulting in an image of a Chicago Cub player to appear on the marquee.
"Items like this help tell the long lost stories of the video game industry, and I can't express how grateful and honored I am to be the one to archive this," Patterson said. "The Chicago area ties make it even better. Not only do I love the spirt of the Windy City, but it has a grand tradition of excellence in the video game industry that should always be remembered and celebrated."
According to Newcomer, this may be the only surviving marquee from the unreleased game. Patterson adds that his research leads him to believe there may be at least one other one out there. Either way, yet another rare piece of arcade and Chicago sports history has been secured.
ABOUT PATRICK SCOTT PATTERSON: A 36-year veteran of the video game world, Patterson's love for the gaming world led him to serve it today as a historian, archivist and preservationist. He scours the country for any and all artifacts relating the past of video gaming so they can be used to educate the next generation of video game fans about the rich tapestry of the industry and culture. More on his work can be seen at http://www.PatrickScottPatterson.com or http://www.VideoGamePreservation.com.
Source :
Patrick Scott Patterson