Vladimir Kush Presents His New Release 'Key to the World'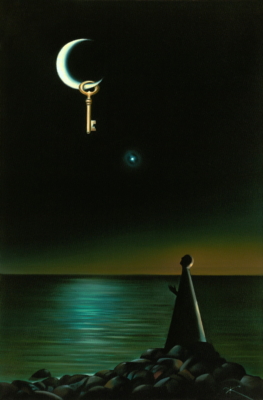 Press Release (ePRNews.com) - LAS VEGAS - Apr 01, 2020 - Kush Fine Art and Vladimir Kush present his new release: "Key to the World" Original Oil on Board (18″ x 12″) & Limited Edition on Metal (19″ x 12.5″) Edition 100. The sun, on the way out at sunset, had to look back. It hung a key on the moon's horn as a keepsake. This is not an ordinary key, it is the "Golden Key"! And, of course, this key keeps the memory of the Sun.
 
On the ocean shore, we see a figure, looking up at the new moon with a prayer. This triangular figure is the keyhole in the hidden door waiting for the "Golden Key's" return.
In the famous story, "Pinocchio", by Carlo Collodi, the Golden Key opens the "Door" into the world of Dreams and Joy. We can see another more poetic motif in the painting: as one poet put it, "sad star, the evening star", which appears to be "awaking the dormant dreams." Of course he meant Venus, named after the Greek Goddess.
Kush explains: "Those who think outward experience is the key to acquiring ideas are wrong. If there is inner emptiness, the whole world cannot fill it. So metaphor does not only belong to linguistic communication but can also be found in daily life.  Metaphor is the means of communication that we live by.  First, the metaphor is aimed at the viewer's feelings and subconscious. It gives full rein to imagination, as it is the imagination that creates the connections between two seemingly different things. Albert Einstein was right: "Imagination is more important than knowledge. Knowledge is limited. Imagination encircles the world." So, imagination has no limits. Metaphor leaves the mind open to grasp the hidden likeness of things and events. The less alike these things are, the greater the effect. The unexpectedness of the connection and sudden insight that takes your breath away is the true measure of the painting's value. My art teacher used to remark on how it is much more difficult to paint happiness than it is to paint trouble. Happiness isn't actually easy, never has been and never will be, in spite of all the entertainment ideology we are fed. But that does not mean that it's not worth striving for, or that happiness doesn't exist. To reflect the world in the mirror of metaphor – to crack open the doors of perception – this is my goal."
Kush Fine Art Galleries are located in Las Vegas, Maui and Laguna Beach. For more information visit www.vladimirkush.com or contact at info@vladimirkush.com. To keep updated with Kush's work follow him on Instagram, Twitter and Facebook. 
Source :
Kush Fine Art