Vladimir Kush Sets the Record Straight on His Painting 'Departure of the Winged Ship' That Has Been Mistaken as Salvador Dali's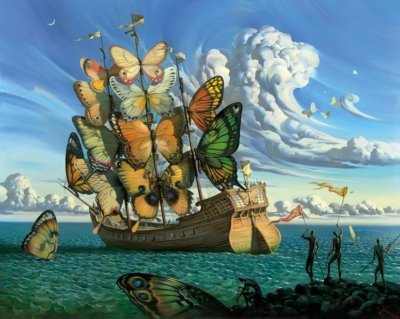 Press Release (ePRNews.com) - LAS VEGAS - Aug 18, 2020 - World-recognized Artist Vladimir Kush is setting the record straight and addressing the mistaken identity of his painting "Departure of the Winged Ship." This Painting, created by Vladimir Kush in the year 2000, is a sold-out Limited Edition on Canvas and currently only available on a Limited Edition on Metal. Vladimir Kush is one of the most recognized Artists of our time and even though some of his Artwork is sometimes compared to some of the most recognized Artists in history, his own signature style and creation known as "Metaphorical Realism" sets him apart from any other Artist that ever existed.
The original "Departure of the Winged Ship" was painted by Kush back in the year 2000 as Oil on Canvas (80" x 100") and immediately became a success among collectors, art enthusiasts and the public. During the same year, Kush opened his own art gallery (Kush Fine Art) in Lahaina, HI, becoming the first Artist to display his own artwork including paintings, sculptures and a unique Jewelry Collection which transcends beyond the canvas into another dimension as 3D artwork from his paintings. He now owns three highly successful galleries in Las Vegas, Laguna Beach and Maui making him a one-of-a-kind Artist and Entrepreneur in the Art World.
The storyline and description of his painting Departure of the Winged Ship was first displayed on his self-published book titled "Metaphorical Journey" (pg. 35) back in the year 2002. Since then, Kush has self-published many more Art Books, including the Multi-Awarded "Fairy Tales" book written and illustrated by his Father Oleg Kush and himself. Departure of the Winged Ship symbolically conveys to us the feelings of happiness and beauty of the world arousing in everyone bound on a distant voyage. In Japan, seeing a butterfly in one's home is considered good luck and the image of the butterfly is always associated with the best moments in life. ​Departure of the Winged Ship could become an emblem or a postage stamp for Hawaii. 
Kush Explains: "Dali a classic surrealist disturbs the likeness of things. I leave it intact. To reflect the world in the mirror of metaphor – to crack open the doors of perception – this is my goal. As Aristotle put it: 'Metaphor is the intuitive perception of likeness in the things that are different.' However, no contemporary style can rescue a bad painting, so it is worth remembering one more dictum from Dali, the great master: 'Begin by learning to draw and paint like the old masters.' My Inspiration comes from artists such as Rene Magritte and later from my personal mentor the great Claude Verlinde. What is concerning is that almost all the artwork being sold as original signed Dali's are fake, and this has been an ongoing fraud in the art industry for many years that should be addressed and investigated accordingly."
"Departure of the Winged Ship" has been published in books, magazines and other mediums since originally painted, crediting and recognizing Kush's undeniable talent and incomparable style; still, some of today's social media and Internet showcase this masterpiece as a Dali creation along with fake names and horrendous imitations as an attempt to recreate the one and only "Metaphorical Realistic" Style by Vladimir Kush. 
For more information visit www.kushfineart.com and follow Vladimir Kush on Instagram, Twitter and Facebook for news, new releases, updates and for contact email us at info@kushfineart.com. 
Source :
Kush Fine Art