Want to buy a new Industrial boiler, Get Expert Tips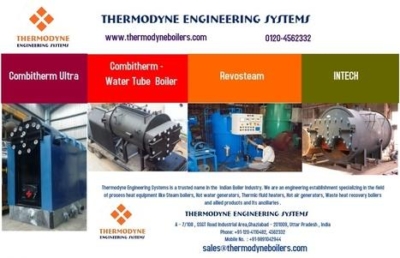 Press Release (ePRNews.com) - GHAZIABAD, India - Nov 09, 2016 - A boiler is a closed vessel in which water or other fluid is heated. The fluid does not necessarily boil. The heated or vaporized fluid exits the boiler for use in various processes or heating applications, including water heating, central heating, boiler-based power generation, cooking, and sanitation. (Source – Wikipedia)
The following points may be kept in view while selecting a boiler:
• The shifting and evaluating the competing claims of different manufacturers is no longer a layman's job. It should be entrusted to a consultant.
• As of today, boilers are in buyers market. Only a decade ago they were in sellers market.
• Because a boiler is offered by a reputed firm it needs not to necessarily be good and because it is offered by a minor company just getting into business, it need not be bad.
When writing to the boiler manufacturers, the following information should be furnished to them:
• Lowest ambient temperature likely to be reached during a year at the proposed place of operation.
• Elevation of the place above MSL
• Maximum working pressure
• Maximum steam demand at the working pressure of the boiler.
• Fuel to be used and its analysis report.
• Whether the load on the boiler is likely to be steady or fluctuating and if fluctuating, then between what limits?
• Analysis of the raw water to be used in the boiler after treatment.
• In case of solid fuel fired boilers, whether mechanical firing is preferred.
• In the event of any proposed standardization of both the HPs & the maker of electric motors that fact should be intimated.
Information the Manufacturer should be requested to furnish
The boiler manufacturer should be requested to include the following information in the quotation he sends-
• Gross thermal Efficiency of boiler with the type of fuel cited
• Accessories included
• Quality of steam-dryness fraction
• Flue gas temperature
• Grate area(for solid fuel fired boilers)
• Expected evaporation(kg of steam at working pressure/kg of fuel)
• Heating surface area
• Delivery Period
• Overall dimension of the boiler
• Quality of boiler feed water required?
• Weight of empty boiler & weight when water is at its full level
We are very keen to serve you as well with our high efficiency low maintenance boilers. These are sure to increase the process productivity and reduce down time. Reduce your fuel cost by choosing most energy efficient Industrial boilers from Thermodyne Engineering Systems (http://www.thermodyneboilers.com/) & save money. For getting energy saving tips call us at: +91-120-4110482, 4562332. For any queries you can mail us: sales1@thermodyneboilers.com
Source – https://thermodyneboilersblog.wordpress.com/2016/11/08/ho…
Source :
Thermodyne Engineering Systems

Business Info :
Thermodyne Engineering Systems
A-7/110 SSGT Road Industrial Area
Ghaziabad, Uttar Pradesh - 201009 India
Phone: 8745001550
Website:
http://www.thermodyneboilers.com/