Where the Cars are the Stars — A History of Motoring and Innovation — At The Cobble Beach Concours d'Elegance Presented by Porsche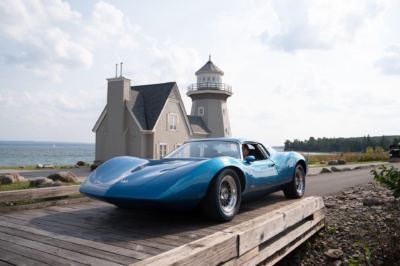 Press Release (ePRNews.com) - Kemble, ON - Aug 15, 2023 - The Cars are the Stars at the 9th annual Cobble Beach Concours d'Elegance presented by Porsche, as they take to the stage and to the green, at Cobble Beach Golf Resort Community. A long-held tradition stemming from the 17th century when cars would parade through the parks of Paris, France, evolving into what we now know as a competition of elegance (Concours d'Elegance) displaying not only antiques but classic automobiles as well, for both competition and celebration.
With 18 classes in total for judging purposes, a panel of 48 judges will take to the 18th fairway to begin scoring each of the 4 or 8 hand selected vehicles in each class, to choose the best in that class. Vehicles are chosen by a committee of automotive experts, studying each vehicle closely, paying attention to the finer details, right down to the correct bolts used for that car's time period. First, second and third place is awarded within each class, and each class winner is eligible for one of either the Best of Show, the Most Outstanding Pre or Post War awards.
This year, Cobble Beach Concours d'Elegance will be hosting some very important automotive anniversaries. Porsche is celebrating 75 Years, as well as 60 Years of the Porsche 911. The show field will feature some great examples of early Porsches, such as a 1955 356 Pre-A and a 1959 356A Super Convertible D. The show field also features some stunning examples of the 911 within the Classic Porsche class. A very special and rare 1966 Porsche 906 Carrera 6 will also be featured among the rare Porsches. This specific 906 boasts a very successful racing career, including its most famous win at the 1966 Targa Florio in Italy. Porsche Canada will also be finishing their Porsche Canada dealer Restoration Challenge at this year's Cobble Beach Concours d'Elegance, with the 10 dealer-restored classic Porsches from across Canada being showcased on the 18th fairway on Sunday.
General Motors is also celebrating two large anniversaries, 120 Years of Buick and 70 Years of Corvette. The 120 Years of Buick celebration features an early Canadian car that eventually led to the formation of General Motors of Canada, a 1908 McLaughlin Buick Model F. The Buick anniversary celebration also features some famous models such as the 1951 LeSabre concept, 1954 Skylark, 1956 Buick Century X, a 1970 GSX and the legendary 1987 Buick GNX. Buick is also bringing the Wildcat EV concept, the stunning coupe that previews the future of Buick design. The 70 Years of Corvette anniversary will feature 17 rare Corvettes throughout the show field, featuring a Corvette model representing every generation of Corvette, as well as the new Corvette C8 Z06 and the future of Corvette performance, the Corvette E-Ray.
Lamborghini, an Italian sports car legend is also celebrating its 60th anniversary this year at the 2023 Cobble Beach Concours d'Elegance. This storied exotic automaker will feature some beautiful examples representing their history of motoring and performance, including two very rare 1965 Lamborghini 350GTs, a beautiful Countach LP400 S and some modern Lamborghini exotics to show off the automaker's latest exotic supercar offerings.
***
What is a Concours d'Elegance? Derived from the French term meaning a competition of elegance, the Concours d\'Elegance has a historic story dating back to 17th Century French society. An event that began with horse-drawn carriages being paraded through the parks of Paris, France has evolved into a display of antique and classic cars for both competition and celebration. The 2023 Cobble Beach Concours d'Elegance presented by Porsche will be held on the 18th fairway of Cobble Beach Golf Resort & Community overlooking the beautiful waters of Georgian Bay. Tickets are now available along with information regarding all other events at www.cobblebeachconcours.com.
Source :
Cobble Beach Concours d'Elegance