Will you be attending SPECS 2017?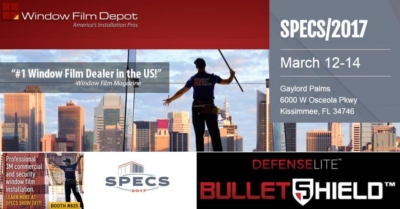 Press Release (ePRNews.com) - KISSIMMEE, Fla. - Mar 11, 2017 - Did you know that the windows are the most important strength and weakness of your commercial building? On one hand, they provide your business with light and exposure, but, on the other hand, they make it vulnerable to burglary and firearm damage. Have you considered investing in improved window and glass security, like that provided by bullet-resistant glass? You should!
Why Invest in Bullet-Resistant Glass?
Perhaps bullets still seem like a distant threat, but no matter how much you hate to admit it, more and more people carry guns. Some use them for their own protection, but not all users have good intentions. Some see guns as the means to easy money, and will not hesitate to use them in a robbery, or to break into a building they wish to rob.
Therefore, armed confrontations are more common every day. There is no telling when one will occur in your neighborhood, and your business will be in the line of fire. It is safer to prevent disasters by installing a bullet-resistant barrier than to wait and hope nothing will happen.
Why Choose DefenseLite Bullet-Resistant Panels?
Of course, some products are better than others, which brings us to DefenseLite, the latest innovation in the field. We are talking about custom-cut polycarbonate panels that bond to existing windows and glass doors, making them unbreakable, and improving overall building security.
These are polycarbonate panels which, once applied on existing windows or glass surfaces, make them unbreakable and resistant to bullets. In case of heavy blows or gunshots, the glass may break, but the panels will remain intact, absorbing the projectile's energy and preventing forced entry and damage.
Compared to traditional bullet-resistant barriers, DefenseLite takes five times more time to break, and is 250 times stronger than regular glass. It is easy to install over existing glass surfaces, and extremely affordable. Besides resistance to bullets, it also improves thermal and noise insulation.
Are you worried about the costs of replacing all windows and glass surfaces? Don't replace them. It is easier, cheaper, and more efficient to cover those surfaces with a bullet-resistant film like DefenseLite.
Would you like to find out more about DefenseLite or some other bullet-resistant glass solutions? Visit http://windowfilmdepot.com and we'll gladly answer your questions and prepare you a price quote!
Source :
Window Film Depot