Woodland Nursing And Rehabilitation Receives Zero-Deficiency Survey Two Years In A Row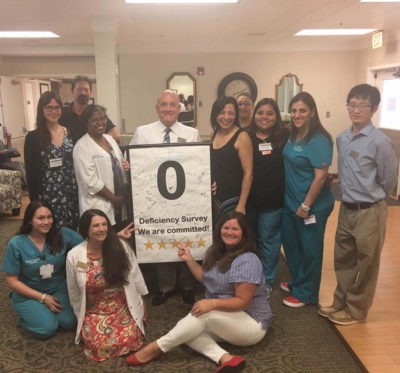 Press Release (ePRNews.com) - WOODLAND, Calif. - Jun 29, 2017 - Woodland Nursing and Rehabilitation is thrilled to have received a zero-deficiency survey two years in a row. This is a great recognition of all the hard work that the staff puts into their every day care. It is very difficult to obtain a zero-deficiency survey from both the federal and state government.
Administrator, James Ellis, said, "We come to work each day enthusiastic about the serious responsibility of delivering compassionate patient services. We clearly understand that in order to succeed, we must provide the kind of health care that satisfies, and where possible, impresses every customer in our care. We strive for outstanding, even excellent regulatory compliance to state and federal regulations. We strive and therefore dedicate ourselves to provide each patient with exemplary nursing, and gentle restorative and/or rehabilitative therapy. We focus our daily patient care and services by each employee demonstrating kindness, personalized friendship, and keeping a genuine spirit of tender compassion for everyone in our care. We realize our patients in almost all circumstances are in our care because of need, not want. We understand that most, if not all of our patients, wish they could be healthy enough to not require our services. Therefore, we serve with empathy, patience, friendliness, and do all that we can to personalize our service, centered on the needs and wants of each person we have the opportunity to care for. We desire to create a happy, lasting impression upon each and every person we serve. We do this by providing excellent health care combined with warm hospitality in a spirit of hope, love, and comfort. Independent verification of our commitment, and therefore our accomplishments – past and present — is highly important to us. The premier independent evaluation and recognition for excellence in health care is measured by the Center for Medicare and Medicaid Services (See Medicare.gov). The Federal Government has established a five-star rating program, for all licensed skilled nursing facilities being judged on a one to five rating. A Five-Star rating is the highest rating; and each employee of our facility is dedicated to provide care and service in such a manner to seek, obtain, and then maintain a Five-Star rating.
At Woodland Nursing and Rehab we are honored to be a Five-Star Facility and to be counted among the small handful of facilities who have earned a zero-deficiency survey two years in a row."
Source :
Brittney Davis