Al Yousuf Motors-Yamaha waverunners anchor the success at Dubai International Boat Show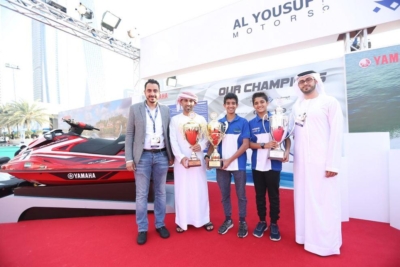 Press Release (ePRNews.com) - BUSINESS BAY, UAE - Mar 04, 2017 - Al Yousuf Motors-Yamaha waverunners anchor the success at Dubai International Boat Show
Al Yousuf Motors LLC, the authorized and exclusive dealers of Yamaha products ranging from motorcycles to boats to personal water crafts, showcased its wide array of waverunners, speed boats, and water vehicles at the 25th Dubai International Boat Show taking place from February 28 – March 4, 2017 at Dubai International Marine Club in Mina Seyahi.
One of the key highlights of the adventure show is Yamaha's all-new top-of-the-range, supercharged GP 1800, with more power and torque compared to any other waverunner models with a sporty look and unmatched manoeuvrability.
The wide range of water crafts from Al Yousuf Motors-Yamaha is a part of the company's commitment to offering the latest water vehicles and waverunners to inspire people to explore the possibilities of water sports, in line with the burgeoning demand for adventure and leisure sports activities.
Mr. Mohamed Iqbal Alyousuf, Deputy President – Marketing, Al Yousuf Motors, said: "Dubai International Boat Show has been an ideal platform to display our exclusive range to the global leisure and adventure water sports industry, and the participation is indeed a great networking opportunity for us to interact with different companies and prospective future partners.
Yamaha is witnessing genuine buoyancy of the leisure marine & adventure market, the new GP 1800 personal watercraft is generating a lot of interest and enquiries during the show," He further added.
The Yamaha GP 1800 is an incredible all round machine that will be hugely popular for among racers, weekend riders and water sports enthusiasts. It combines the exceptional hull technology with the ultra-high performance SVHO (Super Vortex High Output) engine to deliver the ultimate race inspired combination. The version, coming with 1.8 Litre, four cylinders, the supercharged engine has been designed specifically for the extreme demands of personal watercraft applications.
Dubai International Boat Show has long been the region's premier stage for visitors to interact with the latest in marine sport and attracted more than 840 leading international, regional and local exhibitors from 55 countries.
For over 50 years, Al Yousuf Motors has distributed all YAMAHA products ranging from boats, personal watercrafts, motorcycles, all-terrain vehicles, golf cars and outboard engines. The company has set up over 30 different sales outlets, workshops and spare parts centres for YAMAHA customers across the UAE.
Media Contact
Shadi Abou Assi – Managing Director
Into All Marketing Solutions
+971 4 4211568
Email: shadi@into-all.com
Source :
Al Yousuf Motors